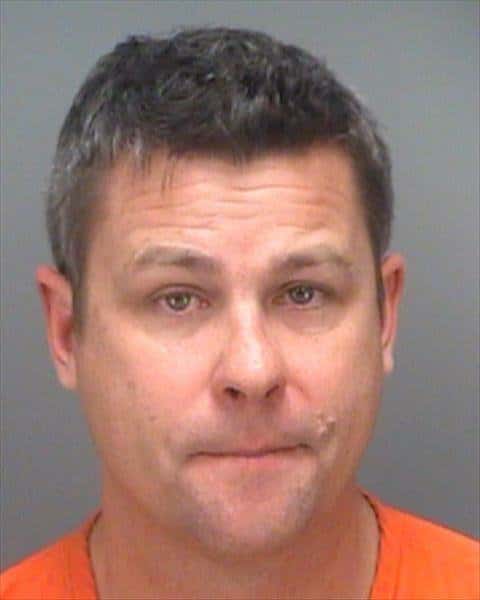 Clearwater Police arrested 48 year-old Marc Rogers on two counts of felony child abuse.
The arrest took place on Friday, January 4, 2019 after an incident that reportedly took place at his Clearwater residence between the afternoon of December 30th and December 31st.
According to a highly redacted arrest affidavit, two children were in the home with him during this time-frame. One of the children indicated that she did not want to stay the night at the residence. Rogers, who was reportedly drinking, opened the bedroom door wedging her between the door and wall. At the time, she was utilizing a online video conferencing application on her phone. Rogers reportedly snatched the phone from her and shouted obscenities at her before hanging up the phone.
He grabbed her by the waist and "threw" her across the room resulting in pain to her neck and head. Another child was present in the room and also knocked to the ground during the altercation.
Rogers continued to punch/strike the child in front of the other child who tried to shove him to stop the attack.
The affidavit indicates that Rogers later entered the room of the other child who was still crying about the prior incident. Rogers grabbed her left leg and yanked her off the bed and onto the floor. She landed on her back and claimed to have struck her head. Rogers reportedly "got on top of her", kneeling, and covered her mouth and nose with possibly his right hand. At the same time, he applied pressure against her neck with his forearm, restricting her breathing. She stated that he was there "for a while" causing her to "see dots" in her vision.
As he got back up, Rogers reported scratched her face and then delivered a kick to her lower body area and left the room. Police say that the child suffered abrasion/bruises consistent with the reported attack. They also report that Rogers made incriminating statements to his ex-wives stated he "covered her mouth" to stop her from screaming and waking up his neighbors.
Marc Rogers is a chiropractor and operates Coastal Chiropractic Rehab & Wellness clinic located on Seminole Boulevard in Largo, Florida. According to the clinic website, it has been serving the Largo area since 2000.
Marc Rogers is also a co-owner of Brooklyn Pizza, an eatery located on Park Boulevard in Seminole, Florida.
Rogers bonded out of the Pinellas County Jail at approximately 4:20 p.m. on Saturday, January 5, 2019. His bail was set at $20,000. Court records indicate his release from jail was contingent upon not having any contact with the victims and forfeiture of any firearms he may possess.
Rogers is due back in court on January 9th at 1:30 p.m. in front of Judge Michael Andrews. 
Comments
comments