We offer an on-line fully functional scanner for both commercial and personal use. The scanner can run in any browser on all mobile devices or desktop devices.
Scanner link: https://iontb.ddns.net
All channels are streamed sequentially, therefore, no transmissions are missed if received simultaneously. Feed is currently achieved for 45 days with playback options.
Channels included with basic streaming subscription include the following.
Pinellas County Fire/EMS
Largo Police
Pinellas County Parks
Pinellas County Sheriff's Office
Pinellas Park Police
St. Petersburg Police
Clearwater Police (In testing phase)
Sarasota/Manatee (In testing phase)
Note: This feed only provides non encrypted channels and general dispatch channels which are already available to the public by other similar services
---
Subscription fees are as follows
Special offers available for First Responders employeed by Pinellas County agencies. Contact [email protected] for details
The subscription only allows streaming to one device at any one time. Contact us at [email protected] regarding corporate accounts which require multiple users.
---
Instructions on how to subscribe
(YOU MUST COMPLETE BOTH STEPS FOR THE ACCOUNT TO BE CREATED)
Step 1
Choose plan below by clicking on link and completing the payment. A valid e-mail address is required. These are one time charges and not recurring. No credit card information is retained.
12 Months: $79 – Subscribe now – 365 days
6 Months: $45 – Subscribe now – 180 days
3 Months: $25 – Subscribe now – 90 days
1 Month: $9 – Subscribe now – 30 days
Step 2
Once payment is complete, complete the following form below or link at https://docs.google.com/forms/d/e/1FAIpQLScNp52e_b6BOlmoS1Q-N6AwAXKp8aRVwptn3Sgo-Kinf6pK0g/viewform?usp=sf_link so an account can be setup up
Step 3
An account will be created with the PIN provided in step 2 and a confirmation email will be sent within a few hours.
*****IF NO EMAIL IS RECEIVED, PLEASE CHECK YOUR SPAM FOLDER*****
Step 4
Access the scanner link at the following https://iontb.ddns.net. Access the feed by typing in the PIN provided during step 2 when prompted.
---
Contact us at [email protected] for inquiries regarding Pinellas County Scanner Services.
Scanner link: https://iontb.ddns.net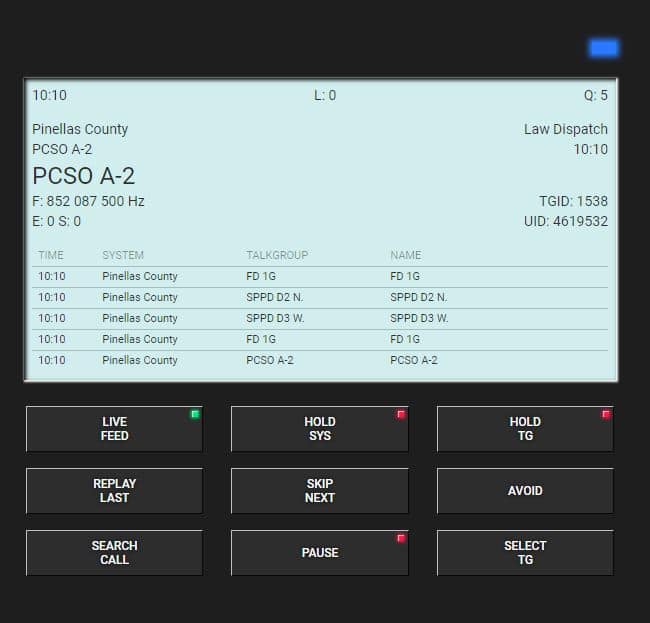 This service uses the "Rdio Scanner" which is covered by the GNU General Public License v3.0. This subscription is to cover costs related to computers, scanning equipment, antennas and broadband connections.