2 Pinellas Teens Severely Injured in I-4 Crash in Polk County
Two teens suffered serious injuries in a horrific crash on Tuesday, May 16, 2017 at about 10 a.m.  The crash occurred on I-4 at mile-marker 53 at US-27.
15 year-old Ray Brewer of Largo and 16 year-old Kyle Keating of Clearwater were traveling eastbound on I-4 in a 2007 Ford E350.  While traveling eastbound, Keating's van collided with the rear of a 2015 Honda Accord.
The Florida Highway Patrol (FHP) described the collision as minor and both vehicles had moved to the left shoulder.
Keating and Brewer along with the driver of the Honda, 30 year-old Muhammad Siddiqui of Dover, FL, were standing outside the vehicles following this crash.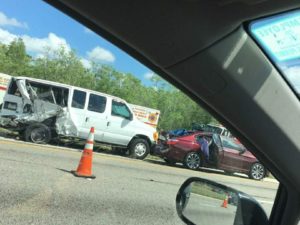 For unknown reasons, the driver of a 2016 Chevy pickup driven by 25 year-old Todd Shorter of Safety Harbor, FL V-1, traveled onto the left shoulder and collided with the rear right of the Ford E250.
The resulting impact pinned 16 year-old Brewer between the Ford and the Honda. The Chevy continued eastbound and collided with the cable barrier located in the median.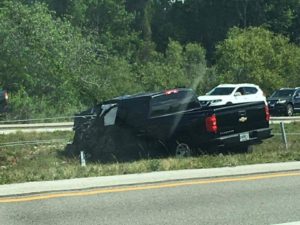 Both Brewer and Keating were airlifted to Orlando Regional Medical Center.
Both Siddiqui and Shorter had injuries described as minor according to Troopers.
Shorter was cited for Careless Driving.
Brewer and Keating both attend Largo High School and were traveling to enjoy the day at Disney World.
A GoFundMe account has been setup for Ray Brewer at https://www.gofundme.com/rays-road-to-recovery
[gmap-embed id="18855″]