Firefighters responded following an explosion that occurred shortly before 4 p.m. on Sunday, December 1, 2019.
The explosion left a boat destroyed and up to 100 gallons of gasoline in the intracoatal waterway surrounding the marina.
According to deputies from the Pinellas County Sheriff's Office, a 2005 Four Winds 25 foot deck boat with an inboard engine had just filled up with fuel at the Indian Springs Marina. During the process, some fuel had overflowed and spilled.
The owner of the boat, 50-year-old David Weil, told deputies after cleaning up he attempted to start the boat. David Weil said he attempted to crank the boat several times before it suddenly exploded. David Weil said the blast threw him from the boat onto the dock.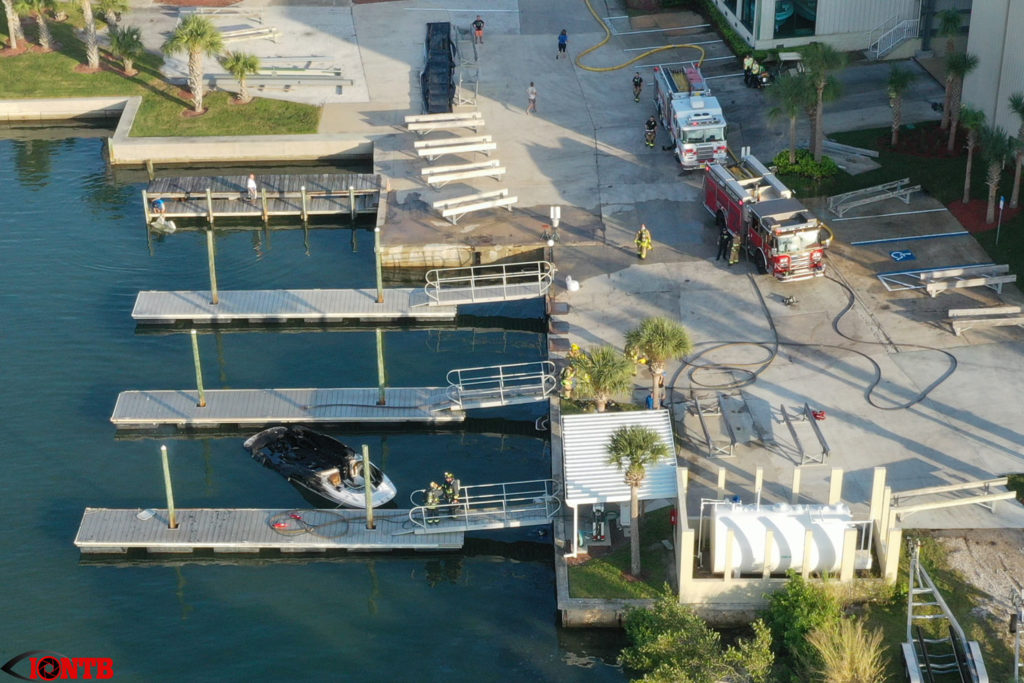 David Weil's daughter, 21-year-old Hope Weil, was standing near the bow when the explosion occurred. The force of the blast caused her to fall into the water. When David Weil realized his daughter was thrown in the water, he immediately dove in and rescued her. She had some minor injuries to her legs and was transported to Bayfront Health St. Petersburg as a precaution. Although David Weil was thrown onto the dock, he was fortunately uninjured.
When the explosion occurred, David Weil's wife, 49-year-old Gail Weil was standing nearby on the seawall and a family friend, 25-year-old Ryan McMahon was on the dock at the rear of the boat. Both were knocked down as a result of the blast, but neither received any injuries.
The explosion caused the fiberglass boat to catch fire. Indian Spring Marina staff attempted to put out the fire using multiple fire extinguishers. However, the blaze was too intense and the fire resulted in the boat partially sinking at the dock.
Crews from multiple agencies responded to extinguish the fire. Afterwards, marina personnel were able to remove the boat from the water and bring it on shore to avoid any further hazards.
The cause of the fire does not appear to be suspicious.
The investigation continues.
Multiple agencies involved in the incident
Pinellas Suncoast Fire Rescue
City of Seminole Fire Rescue
Largo Fire Rescue
Pinellas County Hazmat Response Team
Pinellas County Sheriff's Office
Florida Fish and Wildlife Conservation Commission
US Coast Guard
Sunstar Paramedics
Duke Energy
Indian Springs Marina: Explosion aboard a boat sent one to the hospital.https://t.co/QdL6TL4f9u pic.twitter.com/oeUgUo5nVE

— IONTB.COM (@IONTB) December 1, 2019