911 audio retrieved from Clearwater Public Safety:

Firefighters from Clearwater Fire & Rescue were dispatched to a home at 546 Woodlawn Street at approximately 5:38PM on Monday, January 16, 2017. They received a report of a child that was on the roof of a home and fell down the chimney.The girl was trapped for about 40 minutes as crews worked to safely break away the bricks around her.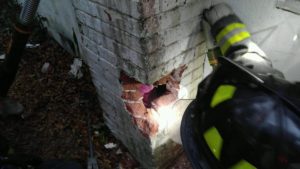 Isabella Cooke, 8, is the girl who was rescued from the chimney.  She lived next to the vacant house where the incident occurred. She apparently shimmied up a pole at the rear of the house and gained access to the roof. While on the roof, she either climbed into or fell into the chimney.
The first firefighters on scene found that the chimney did not have the usual opening inside the house, so there was no way for her to get out. Firefighters established communication with the girl and began meticulously chipping away at the outside of the chimney to gain access to her without causing her any injuries.
She was rescued by firefighters through a small hole that they created. Other than a bruised knee, she did not have any injuries and did not need medical treatment at a hospital according to Clearwater Public Safety officials.