Construction Will Soon Close I-275 Southbound to I-75 Northbound Bridge Deck in Manatee County For 10 Months
The I-275 southbound to I-75 northbound bridge deck replacement project in Manatee Count will force road closures starting on Sunday, July 29, 2018.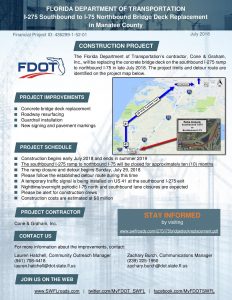 The Florida Department of Transportation's (FDOT) contractor, Cone & Graham, Inc., will be replacing the concrete bridge deck on the southbound I-275 ramp to northbound I-75 in Manatee County.
This work requires traffic on southbound I-275 going north on I-75 be detoured at the US 41 exit. Traffic continuing past the US 41 exit will be required to exit I-275 at the southbound I-75 exit.
The closure begins Sunday, July 29 and will remain in effect for approximately ten (10) months.
Please follow the established detour route and plan additional travel time.
I-275 southbound traffic to northbound I-75: Go north on US 41/S Tamiami Trail to SR 674/E College Avenue. Follow SR 674/E College Avenue to northbound I-75.