Pinellas Park Police have arrested 31 year-old Miguel Alejandro Haisten on charges of First Degree Murder. The charges stem from a call for service at approximately 12:20 p.m. on Wednesday, July 13, 2022 at an abandoned home at 6035 Park Boulevard in Pinellas Park.
Upon arrival, officers from the Pinellas Park Police Department located the body of 65 year-old Joseph Maiden inside the residence. It was learned that a friend of Maiden had stopped by to see him and discovered his body.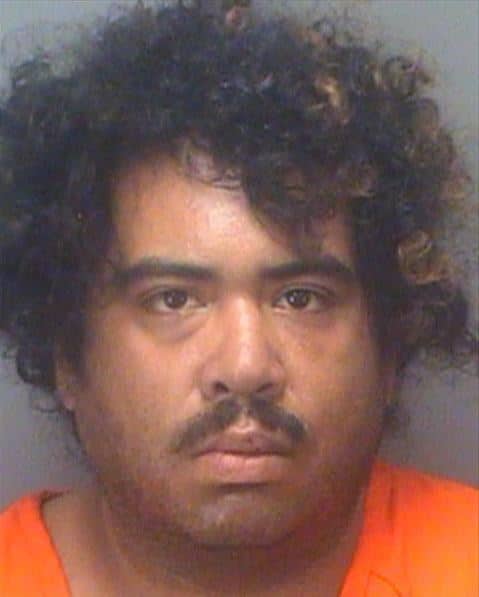 On Friday, July 15, 2022 at approximately 9:00 a.m., detectives from the Pinellas Park Police Department conducting further follow up in the homicidal death of Mr. Maiden
located and arrested Miguel Alejandro Haisten for the murder of Maiden. During the investigation, detectives were able to determine that the Maiden had been squatting inside of an abandoned home for an extended period of time.
Detectives believe that Maiden and Haisten who is also homeless, had been involved in an ongoing dispute over the occupation of the abandoned home. Through investigative means, detectives were able to obtain information that placed the victim alive inside the abandoned home prior to the arrival of Haisten on Wednesday morning.
During the investigation, detectives obtained evidence that shows Haisten arrived at the abandoned home around 11:00 a.m. on Wednesday, July 13th at which time he forced entry into the home with what is believed to be a large plaster cast yard statue. Detectives believe that upon forcing entry into the home, Haisten attacked Maiden with the same plaster statue and other objects causing severe upper body trauma to the victim causing his death.
Haisten fled the scene following the homicide. Detectives learned of a possible court appearance on an unrelated misdemeanor charge that Haisten had today. When Haisten arrived at the Pinellas County Justice Center, detectives took him into custody without incident. Haisten was booked into the Pinellas County Jail where he is being held without bond on a first degree murder charge. Haisten declined to provide any statements about the homicide.
This is Haisten's approximate 29th arrest in Pinellas County.
The investigation is ongoing with no other arrests expected in the incident.
The Pinellas Park Police Department thanked the Pinellas County Sheriff's Office Forensics Unit for their outstanding work in processing the crime scene.