The Florida Highway Patrol (FHP) is investigating a crash that occurred on the Howard Frankland Bridge.
The crash occurred at approximately 4:10 p.m. on Thursday, August 6, 2020.
According to FHP, a trooper attempted a traffic stop of a vehicle traveling at a high rate of speed along northbound I-275 near the 28 milepost.
As the suspect vehicle overtook and passed the trooper, the trooper attempted a traffic stop.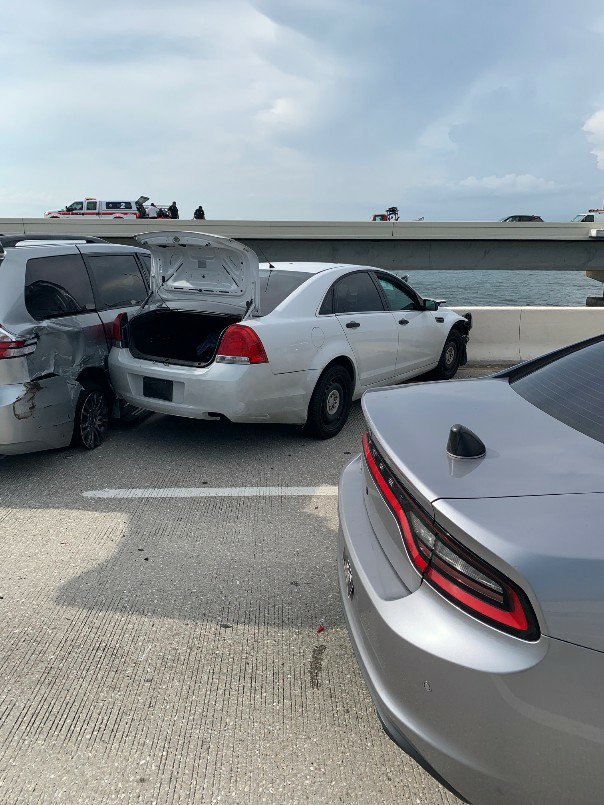 The suspect vehicle failed to stop, traveling at speeds in excess of 120 miles per hour. Near the 31 milepost, the trooper discontinued his attempt to stop the vehicle due to the high speed and reckless driving behavior of the suspect vehicle.
The vehicle continued at a high rate of speed onto the Howard Frankland Bridge where, near the 36 milepost, the vehicle collided with three other vehicles.
Following the collisions, two occupants fled from the vehicle and jumped off the bridge and into Tampa Bay.
18 year-old Joshua Richard Reed-Acton of Temple Terrace, believed to be the driver, was apprehended with serious injuries and transported to an area hospital. 
16 year-old Terren Lee Jackson of Tampa was located deceased by marine units. 
FHP troopers continue to investigate the incident in which a large amount of cash and narcotics were located within the suspect vehicle.