Man Arrested in Deputy Involved Shooting Incident at Palm Harbor Gas Station in Palm Harbor
Detectives from the Pinellas County Sheriff's Office are investigating a deputy  involved shooting at a Palm Harbor gas station after a man went on a crime spree in Pinellas County.
According to detectives, on November 8, 2018, deputies assigned to the Alternative Sentencing Unit were monitoring the GPS monitor of 32-year old Christopher Kearney of Largo when they received an alert that his ankle monitor battery was low.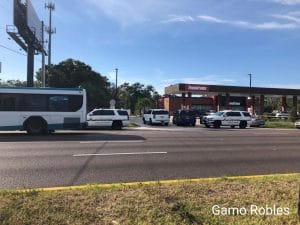 Detectives say Kearney was court ordered to wear a GPS ankle monitor after he posted $105,000 bond and was released from the Pinellas County Jail almost two weeks prior.
Deputies tried locating Kearney but were unsuccessful. Deputies contacted  Kearney's girlfriend, 44-year-old Jennie Martindale of Tampa, and learned that Kearney stole Martindale's 2014 Chevrolet Impala and left the area.
During the investigation, deputies received a tip that Kearney was in Clearwater. A deputy spotted Kearney; however, Kearney fled from the deputy in Martindale's Impala.
Deputies did not pursue him.  A bulletin was issued to local law enforcement agencies to be on the lookout for Kearney.
Kearney was considered an absconder and he was wanted for tampering with an electronic monitoring device and grand theft auto.
Detectives say at about 1:45 p.m. on November 8, 2018, deputies received a  report of a robbery that occurred at the Vixen Nail Salon located at 2676 Bayshore Boulevard in Dunedin.
A white male subject with tattoos approached the 20 year-old female victim and implied he had a weapon. The suspect stole the victim's money and personal belongings before fleeing in a  vehicle.
While patrol deputies were investigating the robbery, Alternative Sentencing Unit deputies were attempting to locate Kearney by tracking the GPS on  Martindale's stolen Impala.
At about 1:54 p.m., deputies were notified the Impala was stationary near the  intersection of U.S. Highway 19 North and Tampa Road.
Deputies responded and spotted Kearney with the stolen Impala parked at the  Thornton's gas station located at 32490 U.S. Highway 19 North, Palm Harbor.
Several deputies converged on the Impala and challenged Kearney at gunpoint.
Kearney refused to comply with the deputies' commands, placed the Impala in  drive, and accelerated forward.
Sergeant David Webb Jr. and Deputy Chelsea Gross both fired at the Impala  discharging multiple rounds from their agency issued firearms. Kearney drove  recklessly through the parking lot and sideswiped a citizen's vehicle near the gas pumps.
Kearney was uninjured and sped away in the Impala westbound on Tampa Road.  Deputies pursued Kearney as he made a southbound turn onto Belcher Road.  Deputies tried disabling the Impala by executing a precision immobilization  technique (PIT) but were unsuccessful.
Kearney continued southbound on Belcher Road, passed Curlew Road, and made a  left eastbound turn onto Ranchette Lane.
Kearney traveled east on Ranchette Lane towards the cul-de-sac when deputies executed a PIT maneuver, causing Kearney to lose control of the Impala and crash into a tree.
Kearney abandoned the vehicle and fled on foot. Kearney led deputies on a foot chase but was apprehended not far from the vehicle. Deputies utilized an electronic control device to subdue Kearney after he became combative with deputies.
Kearney was taken into custody without further incident.
Witnesses from the Vixen Nail Salon robbery positively identified Kearney as the robbery suspect.
During the course of the investigation, detectives learned that Kearney was a  suspect in a robbery that occurred in Largo, on November 7, 2018. Kearney was also as a suspect in a robbery that occurred at Thornton's gas station in  Clearwater on November 8, 2018.
According to court records, Kearney bonded out of jail on October 26, 2018,  while awaiting trial for three counts of Robbery, one count of Attempted Robbery, and one count of Grand Theft Auto.
Kearney was transported to the Pinellas County Jail without incident and his bond was revoked.
Kearney was charged with one count of Tampering with an Electronic Monitoring  Device one count of Robbery, one count of Grand Theft, one count of Fleeing and Eluding Police and a warrant for five counts of Violation of Pretrial Release.
Clearwater PD had additional criminal charges that include one count of Robbery w/ Deadly Weapon.
Largo PD had additional criminal charges that include one count of Robbery and one count of Grand Theft Auto.
The investigation continues.