Man Stole Money from Victim Cashing his Paycheck at Largo Walmart
Update: December 1
Last night, with the help of Officer Goncalves (who identified the suspect), Officer Clay made contact with 26 year-old Chad Alves-Cardoso, and obtained a full confession for this case.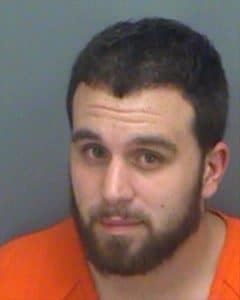 Alves-Cardoso was arrested and transported to the Pinellas County Jail charged with robbery and battery.
———–
At approximately 4:49 p.m. on November 28, 2017, the victim was cashing his paycheck at the customer service area inside the Walmart located at 2677 Roosevelt Blvd.
As the victim was being given his money, an unidentified white male, who was loitering behind the victim, stole the money off of the counter and fled the store.
The victim chased the subject outside of the store where he was battered by the subject prior to leaving the scene in a white van.
The subject is described as a white male with a beard, wearing a dark colored T-shirt and green pants. The subject was in the company of a white female who left the store prior to the robbery. The female subject had blond hair and was wearing all black clothing.
There were several witnesses to battery outside of the store.
If anyone has any information regarding the identity of the suspect and/or the female who was with the subject, they are asked to contact Officer Norris Clay at the Largo Police Department at 727-587-6730.
Comments
comments