Man Safe After Jumping into Tampa Bay After His Vehicle Catches Fire on the Howard Frankland Bridge
Updated: 7:30 p.m.
Fire rescue crews responded to reports of a vehicle fire on the Howard Frankland Bridge at about 5:30 p.m. on Sunday, April 15, 2018.
Upon arrival, the firefighters reported that the vehicle was engulfed with fire in the southbound lane of I-275 on the Howard Frankland bridge.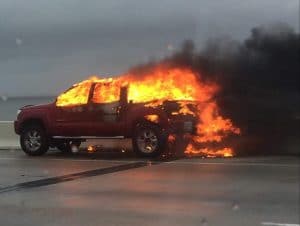 Marine units were also dispatched due to multiple witnesses reporting that a person jumped into the water.
According to the Florida Highway Patrol (FHP), Adirut Promdi, age 41 of Bartow, was traveling southbound on the Howard Frankland Bridge when his vehicle, a 2005 Toyota Tacoma, experienced a mechanical failure and caught fire.
Promdi successfully drove to a controlled stop on the roadway shoulder near the Hump, exited the vehicle and fearing for his safety leaped into Tampa Bay.
Promdi remained near the base of the Bridge until recovered by the US Coast Guard without injury according to the FHP.