Multiple agencies are on-scene of a helicopter crash in Hillsborough County.
The crash occurred at 2:21 p.m. on Thursday, April 4, 2019.
A 2019 Robinson helicopter with two occupants suffered engine failure and crashed onto 50th Street at Palm River Road in Hillsborough County. 
Troopers say that a Chevrolet Silverado pickup truck was traveling northbound on 50th Street approaching Palm River Road and was struck by one of the turning rotor blades of the helicopter.
A passenger within the truck suffered fatal injuries as a result of the incident.
No other injuries are currently reported.
Southbound 50th Street at the Selmon Expressway to Palm River Road is closed. Eastbound and westbound lanes of Palm River Road are also closed. Please find an alternative route.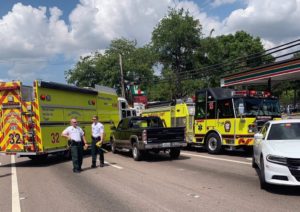 Troopers from the Florida Highway Patrol are investigating the incident along with representatives from the NTSB and FAA. 
The pilot has been identified as 39 year-old Bryant Thomas Messick of Bradenton. The co-pilot has been identified as 21 year-old Joshua Wells of Pinllas Park.
The driver of the truck was identified as 35 year-old Ryan Persaud of Dover. The deceased passenger has been identified as 72 year-old Deodat Gangapersuad. It is reported that the occupants of the truck were a father and son.
Additional information will be released as it becomes available.