Driver of Stolen Truck Dies in Shootout with St. Petersburg Police Officers
Updated 8:15 a.m. – October 25, 2017
33 year-old Timothy Earl Jackson has died from his injuries.
It was shortly before 1 a.m. on Wednesday, October 25, 2017 when an officer with the St. Petersburg Police Department encountered a stolen vehicle.
The white pickup truck the officer spotted had been stolen in an armed carjacking Monday.  The armed carjacking occurred at about 8:45 p.m. when two subject blocked in the driver's pick-up truck as he was driving in the 4800 block of 20th Avenue South. One pointed a black semi-automatic gun at him and stole his white Toyota pick-up truck.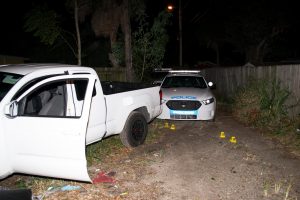 At 12:50 a.m. Wednesday, an officer spotted the stolen pick-up truck at the Choice Food Store at 5th Ave S. and 34th Street.  The vehicle was being followed by an officer from a distance as the slow moving vehicle traveled on a flat tire.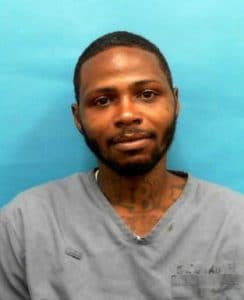 Officers immediately converged into the area to setup a perimeter in the event the subject bailed from the vehicle. Jackson bailed from the vehicle in the area of an alley behind 2940 Freemont Terrace South as two patrol cruisers turned in behind him.
He bailed out of the truck and fired at the patrol cruiser. The two officers fired back.  Two bullets struck the front of the police cruiser.
33 year-old Timothy Earl Jackson was shot multiple times and transported to Bayfront Health St. Petersburg with life-threatening injuries.  He later died from his injuries.
Radio Traffic During the Officer-Involved Shooting in St. Petersburg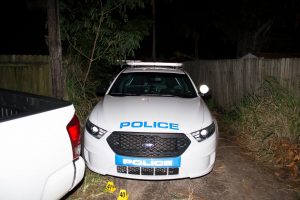 No officers were injured according to police.
Jackson served 8 years, 9 months in prison for robbery and was just released in August of this year.
The officers involved in this morning's shooting are 10-year veteran Matthew Laliberte and 3-year veteran Andre Sousa.
Both officers fired their weapons after 33 year-old Timothy Earl Jackson began shooting at them.
Officers Laliberte and Sousa are on administrative duty while our detectives and the Office of Professional Standards, as well as the State Attorneys' Office investigate.
Chief Holloway is speaking with the Media about the Officer Involved Shooting that happened shortly before 1 a.m.

Posted by St. Petersburg Police Department on Wednesday, October 25, 2017
Comments
comments