The St. Petersburg Police Department and the Pinellas County Use of Deadly Force Task Force are currently investigating a officer involved shooting in St. Petersburg.
The shooting occurred at approximately 4:15 p.m. on Wednesday, December 2, 2020 occurred in the parking lot of the Food Max convenience store located at 1400 18th Avenue South in St. Petersburg.
Limited information is known at this time and subject to change.
Detectives, in full uniform, were attempting to serve a warrant for 20 year-old Dominque Harris on felony Child Abuse charges stemming from an incident in late October 2020. During this incident Harris reportedly body-slammed a 15-year-old male child during an altercation at an area basketball court. The child was transported to the hospital as a result of his injuries.  On December 3, 2020, Sheriff Gualtieri disclosed that Harris was also named as a possible suspect in a homicide.
Harris was the in the driver's seat of a vehicle while his brother entered the nearby convenience store. Harris refused to exit the vehicle and rolled up his window. Detectives attempted to break the window to apprehend Harris.  Harris put the vehicle in gear and attempted to flee the scene striking a concrete pole and two police cruisers.  He was eventually blocked in by other vehicles.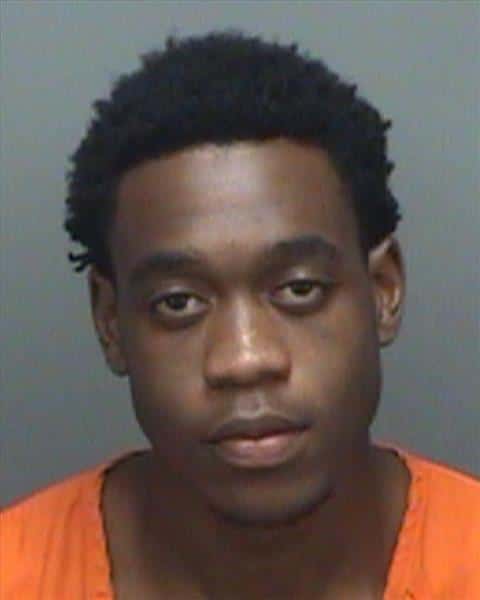 One detective, who was about 2-3 feet from Harris' window, attempted to approach the car door. Harris reached out the window with a handgun and fired rounds at the detective. The detective was shot in the lower torso area and transported to Bayfront Health St. Petersburg in stable condition and underwent a surgical procedure.
Approximately 5-6 officers returned fire striking Harris numerous times as the continued to fire his weapon.  Harris was transported to Bayfront Hospital where he was pronounced deceased. Investigators say approximately 50 bullets were fired by the officers, striking Harris 38 times. They state that Harris fired the gun at least 4 times with two bullets hitting the officer.
Law enforcement showed a photo of the handgun used by Harris along with a spent casing that were found in the vehicle.
A second officer suffered a leg injury and a possible concussion during the incident. She was released from the hospital.
Harris has a couple other adult arrests on file in Pinellas County. His previous record included charges of robbery, car jacking, aggravated assault, burglary, grand theft auto, hit and run, and many others.