One Dead After Tractor Trailer Transporting Tomatoes Travels Off I-75 in Hillsborough County
On October 2nd at 4:08 p.m., a tractor trailer traveling on I-75 lost control resulting in a crash at I-75 and Fowler Avenue in Hillsborough County. The tractor trailer continued off the interstate down onto Fowler Avenue an off the I-75 overpass, landing on top of another vehicle on Fowler Avenue.  An occupant in a vehicle traveling on Fowler Avenue died in the crash after the tractor trailer landed on it.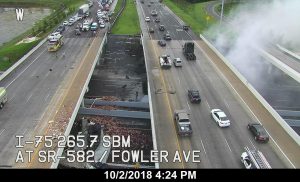 The crash involved at least four other vehicles and resulted in serious injuries including one death.
Currently, both directions of I-75 are closed, as are both directions of Fowler Avenue. Motorists should seek alternate routes such as US-301 and US-41.
Hillsborough County Fire Rescue continues to put out the fires on the remains of 2 vehicles and has treated and transported 5 patients.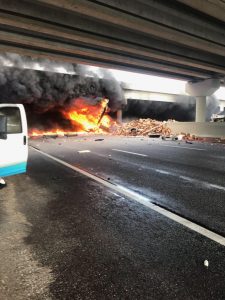 Trooper say that the driver of the tractor trailer was transported to an area hospital with serious injuries.