Palm Harbor: Motorcyclist Injured in Crash on US-19 North of Alderman Road
A 30 year-old motorcyclist was injured in a crash in the northbound lanes of US-19 just north of Alderman Road.
The motorcyclist was injured in a collision after clipping the back of another vehicle.
The crash occurred just prior to 5:30 PM on Friday, March 24, 2017.
Crews arrived to find a motorcyclist injured and requested an air transport.  As of 5:55 PM, Bayflite departed the scene and is enroute to Bayfront Health St. Petersburg.
The occupant of the vehicle was not injured in the crash.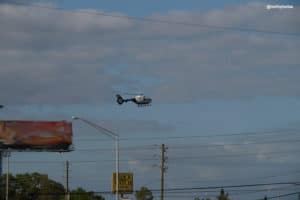 Troopers from the Florida Highway Patrol were on-scene along with Deputies from the Pinellas County Sheriff's Office.
The motorcycle involved in this crash was reportedly impounded last week with the owner regaining possession this week.  He has been spending some time living at the Fox Chase Apartments very close to the site of the crash.
Charges against the motorcyclist are pending.
[gmap-embed id="17374″]