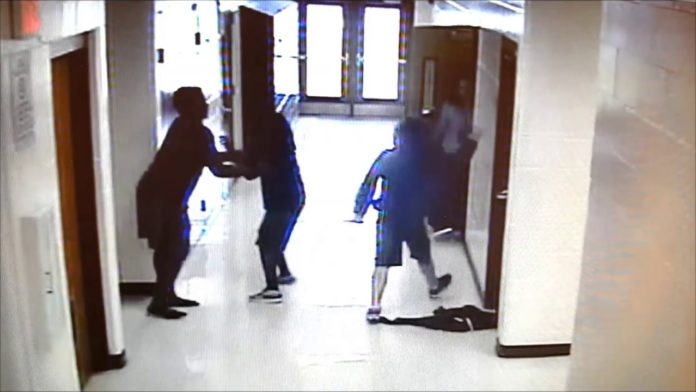 Pinellas Deputies Investigating Battery on School Employees at Seminole Middle School
Three teens arrested at Seminole Middle School are facing charges of Battery on School Personnel.  The incident occurred at Seminole Middle School located at 8701 131st Street North, in unincorporated Seminole.
According to the Pinellas County Sheriff's Office, deputies began their investigation at about 3 p.m. on April 18, 2017, after a school employee reported that he was injured by two students in the hallway of Seminole Middle School.
Deputies obtained the school surveillance video and discovered that two employees were battered by three middle school students during the same disruptive outburst on April 18, 2017.
Deputies say the incident started when, 14-year-old Damond Sears, caused a disruption in his classroom.  His classroom teacher, 32-year-old Jacklyn Rivera, instructed Sears to leave the room and report to the office. Sears left the room but then returned in an agitated state and tried forcing his way back into Rivera's classroom. Afraid that Sears was trying to confront the other students in her room; Rivera stood in the doorway and tried to re-direct Sears away from her students.
Deputies released school surveillance video showing Sears violently pushing Rivera in the midsection as he forced his way into the classroom. Students from Rivera's classroom physically dragged Sears out into the hallway where an altercation occurred between students multiple times.
Deputies say that 49-year-old Mark McConnell, a Exceptional Student Education (ESE) school associate at Seminole Middle School, responded to the hallway following Sears' outburst. McConnell was walking down the hallway when one of Rivera's students, 13-year-old Matthew Reaves, stole McConnell's keys out of his pocket. McConnell struggled with Reaves to retain his keys as 14-year-old, Jaydan Harris, grabbed McConnell from behind and forced McConnell to the ground causing minor injury to the school employee.
Deputies say that McConnell sought medical attention for minor injuries the following day.
Deputies arrested Sears, Reaves, and Harris at Seminole Middle School on April 21, 2017.
The juveniles were transported to the Pinellas Juvenile Assessment Center.
They were each charged with one count of Battery on School Employee.
In the report submitted by the Pinellas County Sheriff's office, Deputy Walker met with the school principal, Wendy Bryan, the following day on April 19, 2017.  During this meeting Principal Bryan took issue with the employee's actions and according to the report, "laid blame on the staff members rather than on the students."  Principal Bryan elieved that Rivera should have let Sears back in the room if he wanted in. She also stated that McConnell should not have tried to retrieve his keys from Harris once they had been taken from him. Principal Bryan also took issue with the fact that at some point both Rivera and McConnell had used their hands to either attempt to restrain or create distance between themselves and the students.
Multiple investigators from the Pinellas County Sheriff's Office reviewed the video and interviewed those involved.   Both of the educators involved stated that this was just another in a long line of aggressive incidents from students toward staff members.
Rivera was asked why she did not report on other incidents.  She replied that so much is tolerated by the school administration and feels that she is just expected to put up with it.
The content of the report seems to highlight a differing philosphopy between the Sheriff's Office and the operation of the school.
Report submitted by the Pinellas County Sheriff's Office
Comments
comments