Update: The Silver Alert has been cancelled. Mr. Josif was located about 1 a.m. in St. John's County and will be reunited with his family
—-‐——–
On Friday, February 19, 2021, deputies assigned to the patrol operations bureau issued a Silver Alert for missing 86-year-old Andy Josif.
According to investigators, Josif was last seen at his residence located in the 14100 block of Sharon Drive in Largo in the general area of Walsingham Road and Oakhurst Road. He was driving the BB&T bank located at 14141 Walsingham Road and has not returned home. He frequents the Largo and Belleair Bluffs area.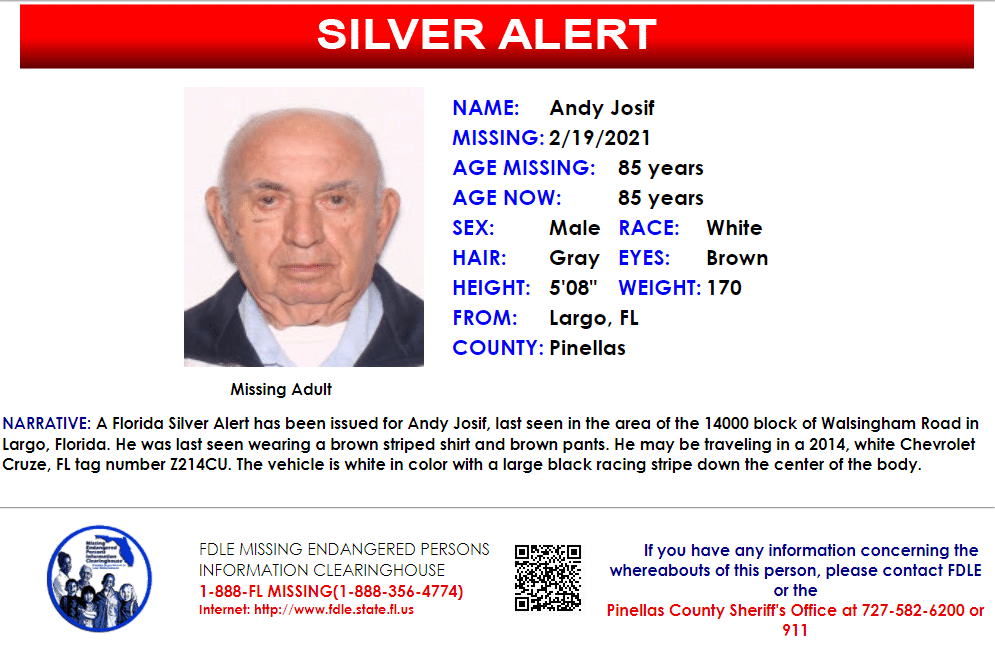 Josif was last seen wearing brown pants and an unknown color top. He is described as a white male, 5'8″ tall, 170 pounds, and is mostly bald with some gray hair on the sides. The white Chevrolet Cruze he was driving has a single black racing stripe down the center of the vehicle. License tag Z214CU.
Josif suffers from memory issues and has been entered into the NCIC/FCIC database as a missing/endangered person.
If you have any information on the whereabouts of Josif you are asked to notify law enforcement immediately.
–‐——–
Update: The Silver Alert has been cancelled. Mr. Josif was located about 1 a.m. in St. John's County and will be reunited with his family