Pinellas Park Police arrested a subject after carjacking two vehicles at approximately 3:15 p.m. and 3:35 p.m. on Thursday, September 19, 2019.
At approximately 3:15 p.m. Pinellas Park Police responded to the 3400 block of 67th Avenue North in reference to a just occurred carjacking.  Contact was made with a 23 year-old female victim from Clearwater. 
The victim told officers she had just left her place of employment and had just got into her vehicle when she was approached by the suspect 27 year-old Cassidy Daniels of St. Augustine. Daniels implied that he had a weapon and demanded that the victim exit her vehicle.  Daniels took the vehicle and fled the area just prior to officers arriving on scene.
As officers were conducting the investigation and searching for the suspect and stolen vehicle, a second call was received regarding a second carjacking that had just taken place in the 6500 block of 51st Way N.  The suspect description provided in the second carjacking was similar to the suspect description in the first carjacking. 
The 16 year old male victim of the second carjacking had just arrived at his home and was exiting his vehicle when the suspect, later identified as Cassidy Daniels approached the second victim.  Daniels physically removed the victim by grabbing and pulling him from his vehicle as Daniels was demanding to take the vehicle.  Daniels then fled the area in the second victim's vehicle, leaving behind the first vehicle that he had previously carjacked.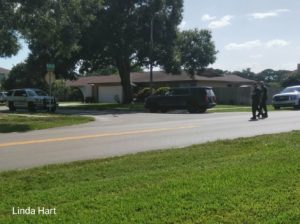 Moments later Daniels was spotted driving the stolen vehicle at a high rate of speed north bound on 66th Street N, where he ended up turning west bound on Bryan Dairy Road with a Pinellas Park Patrol unit in pursuit of him.  Daniels continued west bound to Starkey Road and then went south as he continued to flee in a reckless manner from officers.  Officers pursued Daniels to the area of 86th Avenue and Denise Drive in unincorporated Pinellas County, where he exited the vehicle and ran, fleeing on foot.  After a short foot pursuit
Daniels was taken into custody without incident with the assistance of the Pinellas County Sheriff's Office and helicopter.
Daniels was booked into the Pinellas County Jail on 2 counts of carjacking, 1 count of aggravated fleeing and eluding, 1 count of possession of drug paraphernalia.