Police Arrest Subjects That Stole Two 65-Inch Televisions From Clearwater Sam's Club
Update: May 23, 2018
Clearwater Police detectives have identified the two suspects who stole two large-screen televisions from Sam's Club last month.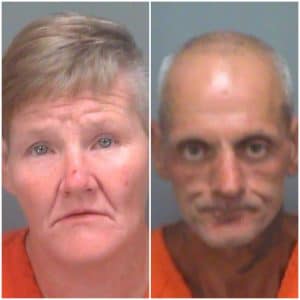 Carl Hunter, age 45, and Susan Webb, age 48 were the two who made off with the televisions on April 3 from the business located at 2575 Gulf-to-Bay  Blvd.
Surveillance images of the two were released last week by the police department in an attempt to identify them.
Each was already in custody on other charges when they were identified. Hunter was in the Pinellas County Jail when an alert Pinellas County Sheriff's Office worker recognized his photo.
Webb was found to be already behind bars in St.  Lucie County.
Each has been charged with retail theft.
====================
Original article
Clearwater Police detectives are asking for the public's help to identify two recent retail theft suspects.
The crime occurred April 3 at Sam's Club, 2575 Gulf-to-Bay Blvd. That's when the two suspects left the store with two 65-inch televisions without paying for them. They may have left the scene in a Mitsubishi Eclipse.
Anyone with information on their identity should call Clearwater Police at 727-562-4242.
Comments
comments