Road Depression Closes 34th Street in St. Petersburg
Emergency roadway repairs along 34th Street South between and 4th and 5th Avenue South in St. Petersburg have been progressing through the day.
Crews were able to locate and repair a box culvert about six feet below the street surface, while also sealing the depression under the roadway with flowable fill.
Because of the time required to cure the fill material and then re-grade and patch the asphalt road surface, two lanes of southbound 34th Street (US 19) will remain closed to traffic from 3rd to 5th Avenue South through the evening rush-hour.
Repairs are expected to be completed and the roadway will be ready to for full vehicular use by 8 p.m.
===========
St. Petersburg Police Department reports there is a depression in the middle lane of 34th Street South at 4th Avenue South.
As a result of of this depression, St. Petersburg Police Department has closed the roadway.
The depression is about 10 feet deep and 10 feet across under the road.
Florida Department of Transportation  Engineers are on their way to evaluate.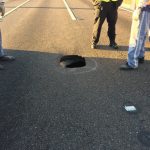 Comments
comments