Safeway Grocery Stores to Close All Florida Stores Including Largo Mall Location
Employees at the Largo Mall Safeway Grocery Store were informed today of the companies plan to close the location.
Publix Super Markets Inc. announced it has entered into an agreement to purchase three Florida stores from Safeway.  The three stores are located in  Largo, Altamonte Springs and Oakland Park.
The Largo store is located at 10500 Ulmerton Road in Largo, Florida.
In today's press release, Publix CEO & President Todd Jones commented on the purchase, "Publix continues to look for ways to expand within our operating area to better serve our customers. We are excited for this opportunity to acquire existing stores within our home state."
The three locations plan to continue operating as Safeway stores until early September. However, Safeway's pharmacies will close prior to the main store closings. Publix posters will be displayed within Safeway's pharmacies to advise customers once their prescriptions have transferred to the Publix Pharmacy.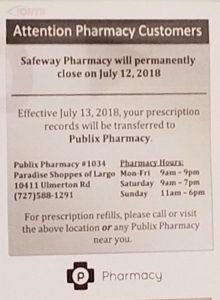 The Pharmacy in the Largo location will be closing on Thursday, July 12, 2018.  Effective July 13, 2018, all prescription records will be transferred to the Publix Pharmacy across the street at 10411 Ulmerton Road.  The phone number of the Publix Pharmacy is 727-588-1291.
The press release states that, "Impacted Safeway employees are encouraged to pursue job opportunities at Publix and will be provided with details on how to apply for employment. We expect all locations to have grand opening dates within the fourth quarter of this year."
Publix is privately owned and operated by its more than 190,000 employees, with 2017 sales of $34.6 billion. Currently, Publix has 1,187 stores in Florida, Georgia, Alabama, Tennessee, South Carolina, North Carolina and Virginia.
Albertsons Companies, the parent company of Safeway, announced in 2016 of a multi-million dollar renovation to their three remaining Albertsons stores in Florida; Largo, Altamonte Springs and Oakland Park.  They reopened under the Safeway name.
For more information, visit the Publix website at corporate.publix.com.