The Pinellas Park Park Police Department continues to investigate a crash that killed a motorcyclist early Sunday morning.
The crash occurred shortly before 4 a.m. on Sunday, May 12, 2019 in the 12300 block of U.S. Hwy 19 North in Pinellas Park.

Officers were dispatched to the scene of the crash involving a 2006 Kawasaki motorcycle and two vehicles that were still on-scene.
The adult male motorcycle rider, 22 year-old Christopher Mathew Babcock of Clearwater, was pronounced deceased on scene and Traffic Homicide Investigators responded to investigate the crash.
According to investigators, it appears the motorcycle was traveling at a high rate of speed and lost control causing Babcock to be ejected. 
A passing motorist stopped and attempted to flag down traffic, however the unsuspecting driver of a 2016 Ford Mustang traveling north struck the motorcycle rider. 
A second vehicle, a 2012 Kia Optima also traveled through the scene striking debris in the roadway just prior to the Mustang.   All parties involved are cooperating with the investigation.  A helmet was located at the scene, however it is unknown if it was worn at the time of the crash.
On May 13, 2019, Pinellas Park Police Traffic Homicide Investigators received information of a third vehicle involved in the fatal crash on the morning of May 12th.  Through follow-up investigation, the suspect vehicle was identified and located by investigators, matching evidence located at the crash scene.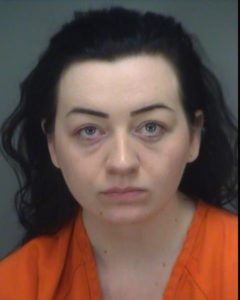 Further investigation revealed the driver at the time of the crash to be 26 year-old Sierra Ethridge of Clearwater, who struck Christopher Babcock after he was ejected from his motorcycle.  Ethridge left the scene without stopping to render aid to Babcock.  At no point did Ethridge notify a law enforcement agency of her involvement in the crash.

Sierra Ethridge was taken into custody Monday evening by officers at the Pinellas Park Police Department. 
Ethridge has been transported to the Pinellas County Jail where she was charged with one count of leaving the scene of a crash involving a death.

Neither the 20 year-old male driver of the Mustang nor the 48 year-old female driver of the Kia were physically injured in the crash.
The investigation continues.
Comments
comments