Officers from the St. Petersburg Police Department (SPPD) began an investigation after two people were found deceased in a vehicle. The incident occurred in 1400 block of 34th Street S.
SPPD received information, just after 1:30 a.m. on Wednesday, February 10, 2021, that a car had been running for an extended time, after crashing into a shed, with two people inside. Police detectives confirmed that both victims were been shot.
The two deceased occupants in the dark colored Chevy sedan have been identified as 27 year-old Larrisha Williams and 23 year-old Jerome Clark.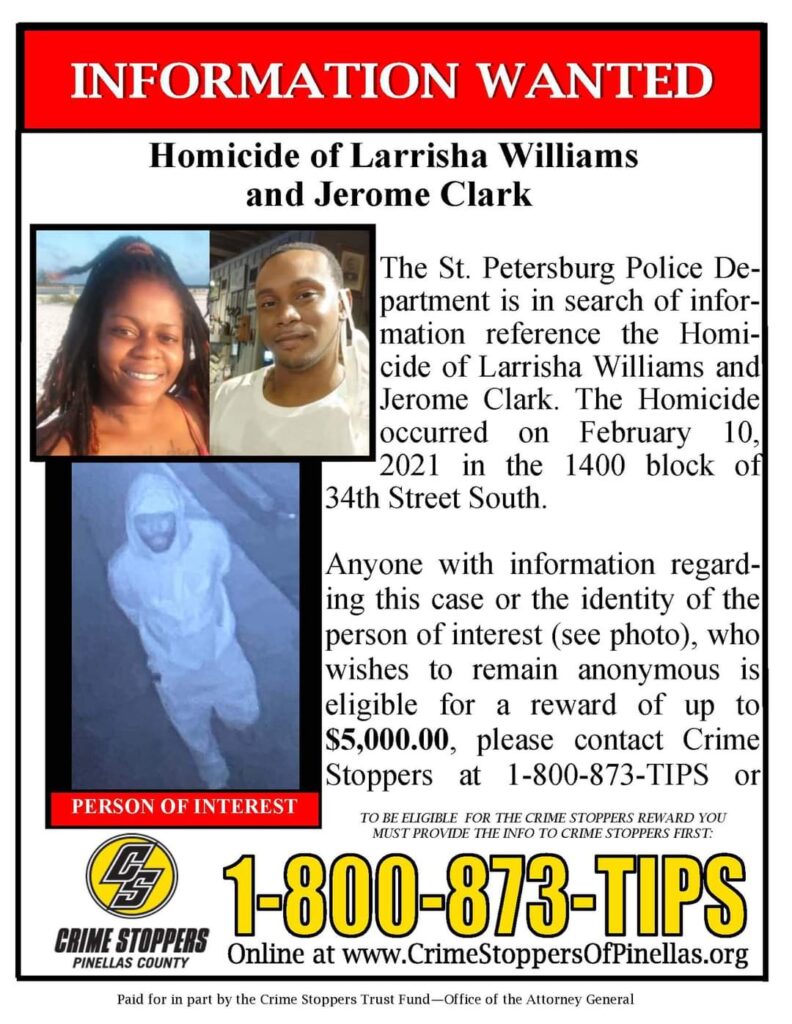 During the investigation, 34th St. S was closed for several hours between 13th Ave. S and 15th Ave. S.
A person of interest was announced by SPPD and the public's help was solicited to help identify and locate a subject walking in the area at the time.
With the help of several tips from the community, they were able to identify Andre Watkins, age 35, as the suspect.
At 3:39 p.m. on Friday, February 12, 2021, police received information that Watkins was in a room at the Bayway Inn located at 4400 34th Street S.
Police evacuated the motel and closed 34th Street S. in both directions, and brought in the swat team to take Watkins into custody safely. After four hours, he was arrested without incident to the cheers of a large crowd gathered near the scene. Police stated that over 100 people were at the scene with many having ties to the two murdered victims. SPPD reported that the crowd was very emotional which required constant dialogue of police.
According to arrest information, Clark and Williams met with Watkins to conduct a possible drug transaction. Watkins reportedly approached the victims and shot them numerous times. The victims drove away briefly and crashed into a parked trailer in a nearby vacant lot. The incident was captured on video surveillance, according to the report.
Andre Watkins is charged with two counts of first-degree murder in the deaths of 23 year-old Jerome Clark and 27 year-old Larrisha Williams.
Watkins has numerous arrests and spent prison time in the Florida Department of Corrections for about 11 years in the prior 16 years. His most recent release date is listed as May 12, 2020. His previous charges included robbery, battery, aggravated assault, and drug related offenses.