FHP Troopers are on scene of a fatal crash involving several vehicles to include a commercial motor vehicle which caught fire along the northbound lanes I-75.
The crash occurred approximately 10 a.m. on Friday, June 17, 2022.
A tractor trailer was traveling northbound on I-75 in the outside lane. A second tractor trailer was stopped on the outside shoulder at Exit 256. For unknown reason, the driver of the tractor trailer drifted onto the outside shoulder and collided with the stopped trailer.
The impact caused the natural gas tanks of the first tractor trailer to separate and become airborne. The gas tanks then fell upon a Buick Enclave, which was traveling northbound on I-75 in the center lane, causing fatal injuries to a passenger traveling in the vehicle.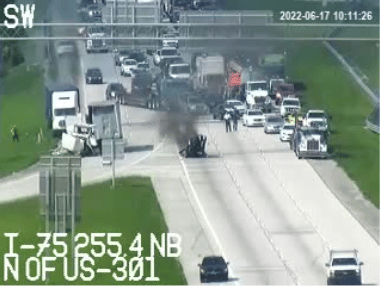 Following this impact, the gas tanks came to rest in the center of the interstate as the Enclave came to controlled stop along the inside shoulder. After the initial impact, the stopped trailer, loaded with cotton clothing products, caught fire until extinguished by fire rescue personnel.
All northbound lanes were closed at Exit 256 (exit to the Selmon Expressway) and diverted onto US-301 in the Riverview area.