Troopers Say Trailer Hitch Malfunction Led to 18 Foot Boat on the Gandy Bridge
The Florida Highway Patrol (FHP) is investigating an incident that left a boat in the westbound lanes of the Gandy Bridge.
The incident occurred at approximately 5:09 p.m. on Sunday, June 3, 2018.
Jeffrey John Pinney of Tampa, Florida was driving a 2012 Ford F-150 pickup truck towing an 18 foot boat and traveling westbound on the Gandy Bridge.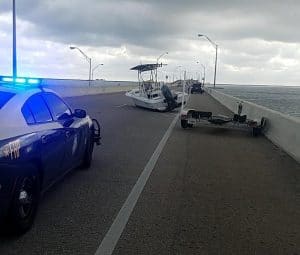 Troopers say the trailer hitch malfunctioned, then separated from the Ford.
The boat and boat trailer impacted the concrete barrier wall causing no damage.
No injuries reported.