Truck Crashes into St. Petersburg Home Injuring Woman Inside
St. Petersburg police are investigating a crash where a pickup truck hit a house and injured a woman inside.
The crash occurred at approximately 5:30pm at 5327 38th Avenue N in St. Petersburg.  St. Petersburg Fire Rescue responded to the scene after receiving reports of a structural collapse.
When crews arrived on-scene they found a vehicle had driven through the home at that address.
The resident, 38 year-old Ashley Zurla was inside the house at the time of the crash and was taken to Bayfront Health St. Petersburg for serious injuries.  St. Petersburg Police say she is currently in stable condition. In addition, children were reportedly home at the time but were not injured.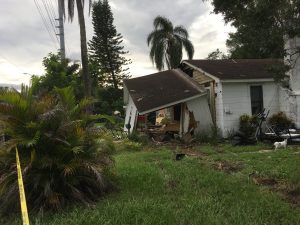 The driver of the vehicle, 44 year-old Samuel Anderson, was also treated and released at the scene.  St. Petersburg Police Department is investigating the cause of the crash and are interviewing the driver.
During the investigation, 38th Avenue N. is closed down in both directions between 53rd Street and 56th Street N.
Anderson was cited for careless driving according to SPPD.