Clearwater Police and Clearwater Fire & Rescue responded to a call of a truck that had crashed into a house.
The crash occurred at 701 Vine Avenue at 6:41 p.m. on Sunday, April 14, 2019.
According to police, the two occupants of the truck were taken to Bayfront Health St. Petersburg as trauma alerts.
Two other people were being treated at the scene by fire medics — one person who had been on the porch and another who tried to help rescue those in the truck.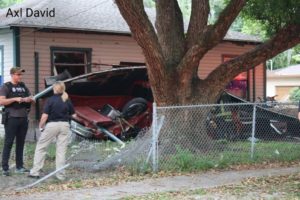 Police are on scene conducting their investigation into the cause of the crash.