Two Pedestrians Seriously Injured After Being Struck by a Vehicle on Gulf Blvd in Madeira Beach
Two people were seriously injured after being struck by a vehicle in the 13000 block of Gulf Boulevard in Madeira Beach.
The crash occurred at approximately 6:40 p.m. on Tuesday, January 9, 2017.
Deputies assigned to the Major Accident Investigation Team (M.A.I.T.) are investigating a vehicle versus pedestrian crash that occurred at Gulf Boulevard and 130th Avenue in Madeira Beach.
According to investigators, 81-year-old David Stempin and 78-year-old Janette Park of Ontario, Canada, were in the crosswalk at Gulf Boulevard and 130th Avenue, waiting to walk eastbound across Gulf Boulevard. Investigators say witnesses observed the crosswalk lights flashing as the couple began to walk across Gulf Boulevard in the crosswalk.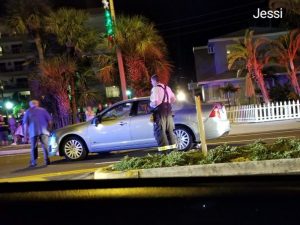 While crossing the street, Stempin and Park were struck by a 2010 Ford Fusion traveling southbound on Gulf Boulevard, driven by 79-year-old Vernon Tarrant of Cocoa, Florida
David Stempin and Janette Park were transported to a Bayfront Health St. Petersburg via ambulance with life-threatening injuries according to investigators
Vernon and 74 year-old passenger, Alice Tarrant, were evaluated on-scene and reported no  injuries.
It does not appear that speed or chemical impairment were factors in the crash.
Comments
comments