Woman Flees Crash With Injured Passenger Crushed in Car Attempting to Avoid Third DUI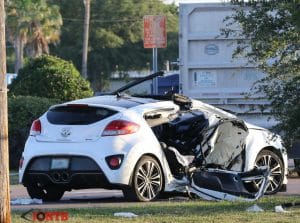 Oldsmar resident, 49 year-old Jennifer Travis was arrested following a hit and run crash that occurred at approximately 6 a.m. on Tuesday, May 8, 2018.
The crash occurred in the 7800 block of Ulmerton Road just west of Belcher Road.  Travis was driving a white 2016 Hyundai Veloster westbound on Ulmerton Road and collided with a truck.  Following the collision, Travis continued to travel westbound and local law enforcement agencies were alerted to look for the heavily damaged vehicle.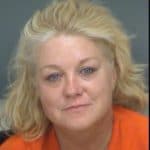 According to police, she left her left lane of travel striking the center median.  After veering to the right, Travis struck the rear axel of a semi tractor trailer.  The Hyundai went under the wheel causing severe damage to the pasenger door.
The passenger, Lori Wilson was injured and became pinned in the vehicle.
According to the arrest affidavit, Travis stated to Wilson, "I got to get away or I'll get a DUI."
The vehicle was located at approximately 6:20 a.m. in front of the City of Largo Recycling Drop Off Center at 1551 Starkey Road.  Firefighters were called to the scene where the equipment was utilized to extricate Wilson from the vehicle.
Both Travis and Wilson were transported via ambulance to the trauma center at Bayfront Health St. Petersburg. Both woman were discharged from the hospital later the same day.
Travis was arrested by officers from the Largo Police Department and transported to the Pinellas County Jail and is being held on multiple charges related to the incident.
She is facing the following charges; leaving the scene of a crash involving injuries, eight counts of possession of medicinal drugs without a prescription including oxycodone, and her third DUI.
Her blood alcohol level was measured in excess of twice the legal limit.