Woman Injured in Rollover Crash on Park Blvd in Pinellas Park
Crews from Pinellas Park Fire Rescue were dispatched to a rollover crash on Park Blvd at 57th Street at approximately 2pm on Sunday, September 3, 2017.
A woman was reportedly trapped in the pickup truck which came to rest on its roof.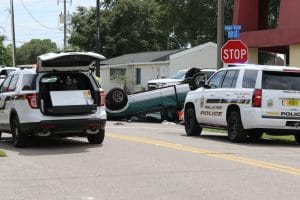 She was extricated and transported via ambulance to Bayfront Healh St. Petersburg as a trauma alert
All westbound lanes of Park Blvd are closed at 55th Street as a result of the crash.