Woman Shot at Brandon Drive-up Bank Night Depository
A 23 year-old woman was shot in the leg about 9 p.m. on Wednesday, November 8, 2017, while using a bank night depository.
Deputies were called to the Brandon branch of the Wells Fargo Bank at 204 Kings Ave. S, and found the woman with a gunshot wound to her leg.
The Hillsborough County Sheriff's Office needs help to identify the brazen robber.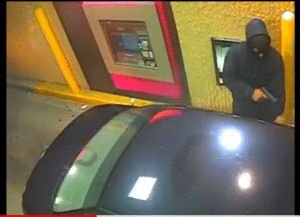 The shooting occurred when the woman drove her car into the lane to access the outside night depository. Before she could make a deposit, a man with a 9mm pistol and wearing a dark hoodie approached from the front of her car.
He yelled at her for the money and tried to open her car door, but she locked it. The robber then fired a bullet into the driver's side rear window. He then shot a second time into the driver's window, hitting the woman in the left leg.
The robber grabbed the deposit bag from inside the car and ran away. The woman was taken to Tampa General Hospital for non-life threatening injuries.
Anyone with information reference the suspect is asked to call the Hillsborough County Sheriff's Office at 247-8200 or anyone with any information regarding the identity or whereabouts of the suspect and who wants to be eligible for a cash reward is asked to call Crime Stoppers at 1-800-873-TIPS (8477), report anonymously online at 
www.crimestopperstb.com
 or send a mobile tip using their P3 Tips Mobile application, which is a free download for iPhones, iPads and Droids. You must call Crime Stoppers first to be eligible for a reward.
Comments
comments