Aircraft Down On Keene Road Near Sunset Point Road
Update: November 19 – 3:40 p.m.8
Pinellas County Deputies are currently assisting the FAA and NTSB with a plane
crash investigation that occurred at 1817 North Keene Road, Clearwater.  The Airpark is located at 1000 North Hercules Avenue.
Deputies first received reports of the plane crash this morning at approximately 10:23 a.m.
Two Deputies were responding to an unrelated call for service, in the vicinity and witnessed the plane crash.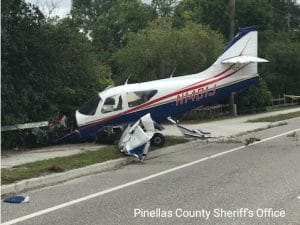 According to the Pilot 61-year-old Marc Allen Benedict of Clearwater at approximately 9:00 a.m., the single-engine Rockwell International aircraft 112-A piloted by Benedict along with his passenger 55-year-old Gregory Guinee had taken off from Clearwater Airpark located at 1000 North Hercules Avenue Clearwater and flew to the  Zephyrhills Municipal Airport.  That airport is located at 39450 South Avenue in Zephyrhills Florida.
Deputies say after refueling the aircraft at the Zephyrhills Municipal Airport, they attempted to return back to the Clearwater Airpark at approximately 10:00 a.m.
The pilot reported to deputies he believed there to be engine trouble while in the air over the area of Sunset Point Road and Belcher Road area in Clearwater.
Benedict told investigators he did not believe he could make it back to the Clearwater Airpark and began looking for a safe place to land. Benedict said he saw a deputy near the intersection of Keene Road and Sunset Point Road.
Benedict said he then observed what appeared to be an opening and attempted to land the plane on Keene Road.
While landing, Benedict reported the pilot side, (left wing) caught a tree causing the.plane to spin and crash at 1817 North Keene Road, Clearwater.
Investigators say both the pilot Benedict and his passenger Guinee reported no injuries and refused medical treatment.
The investigation into the cause of the crash is being conducted by the FAA and NTSB. It has not yet been determined what caused the plane to crash.
The investigation continues.
ORIGINAL ARTICLE BELOW
First responders are still responding to an aircraft down on Keene Road south of Sunset Point Road in Unincorporated Clearwater.  The crash occurred just northwest of the Clearwater Airpark at Flagler Drive.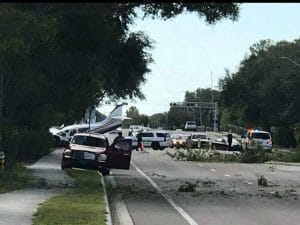 It is reported that both occupants safely exited the single engine Rockwell 112A airplane manufactured in 1975.
Limited details at this time.
Firefighter are working to contain a fuel leak in a full tank at this time.  This is now a hazmat incident. Part of the plane impacted trees in the area.
Avoid the area.
[gmap-embed id="21185″]