Preliminary Crash Report on Plane that Crash Landed on Keene Road
The National Transportation Safety Board (NTSB) has released its preliminary report on the November 19th crash.
On November 19, 2017, about 10:30 a.m., a Rockwell International 112A airplane, N1401J, impacted trees during a forced landing on a city street about one mile northeast of Clearwater Air Park (KCLW), St. Petersburg, Florida, following a total loss of engine power.
The plane crashed at 1817 North Keene Road, Clearwater. The Clearwater Air Park (KCLW) is located at 1000 North Hercules Avenue.
The private pilot, 61-year-old Marc Allen Benedict, and passenger, 55-year-old Gregory Guinee,  sustained no injuries and the airplane was substantially damaged. The flight departed Zephyrhills Airport (KZPH), Zephyrhills, Florida at about 10:08 a.m. for the roughly 35 nautical mile flight to KCLW.
According to the pilot, prior to departing KZPH, he added about 30 gallons of fuel to the airplane, which filled the left fuel tank completely and the right tank was about 7/8 full. He performed a walk-around inspection, but did not sump the fuel system for contaminants prior to departure.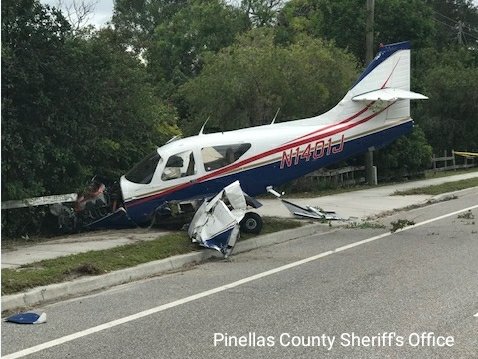 The roughly 20-minute flight was conducted with the fuel selector on the left tank. When descending through 1,200 ft, the pilot conducted the before landing checklist, which included increasing the mixture to full rich, turning on the auxiliary fuel pump and switching the fuel selector to the "BOTH" position.
He then reduced the throttle to slow the aircraft and felt "slight resistance" on the throttle lever. About 10 seconds after switching the fuel selector, he began to lose airspeed faster than anticipated. When he looked at the fuel flow indicator, he saw it slowly transition from 8 gallons per hour to zero and the engine subsequently lost all power. He placed the fuel selector back to the left fuel tank, but the engine would not restart.
During the forced landing, the airplane impacted a tree in the median of a 4-lane street prior to impacting and coming to rest in a stand of trees adjacent to the roadway.
Video footage captured the airplane as it approached the roadway as well as the final impact. The initial impact with the tree in the median was not captured. The video depicts the airplane in a controlled, level descent. Due to the quality of the video, propeller rotation could not be determined.
A detailed engine and airframe examination is pending. The final report may not be released for at least a year during the investigation.
The original article regarding the crash can be found HERE