Armed Robbery in Pinellas Park Lands Both Suspects and Victim Behind Bars
Pinellas Park Police officers were called to 4701 80th Terrace N at approximately 2:30 p.m. on Wednesday, July 11, 2018 for a man that was reportedly attacked with a machete.
Officers arrived within minutes of the call for assistance and learned that the male victim was threatened with a machete but never struck with it. The male victim did suffer significant facial injuries as the result of being attacked by a white male and a white female subject that fled prior to the arrival of officers.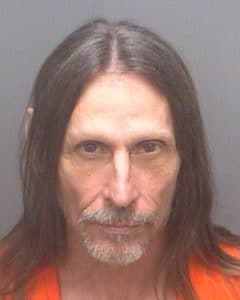 The victim was identified as 56 year-old Bradley D'Andrea of Seminole. While officers spoke to D'Andrea to ascertain exactly what occurred, that resulted in his injuries, other police and K-9 units were deployed to search for the two suspects.
D'Andrea explained that he was an acquaintance of both suspects and came to the incident location to rent a room. He said that while he was inquiring about the room, and the price, 26 year-old Mia Rose Calvert of Pinellas Park charged at him while swinging a machete.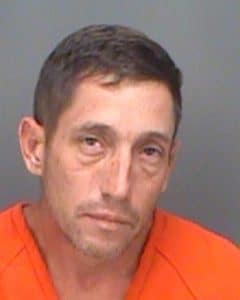 He said that as he pushed the female away from him 42 year-old Anthony Wayne Aleman of Largo approached him from the rear and placed him in a choke hold. He said that as he struggled to get free, Calvert picked up a ceramic mug and beat him about the head and face. While he was being attacked, his wallet was stolen from him containing an undisclosed amount of cash. When he was finally able to break free, Calvert and Aleman locked the door to her residence and fled on foot. D'Andrea required medical attention to close the wounds to his head and face.
Police K-9 units, with the assistance of patrol officers, were able to locate both suspects a short distance from the scene. The suspects changed clothes prior to being located. Both Calvert and Aleman were placed into custody.
Lt. Adam Geissenberger, Public Information Officer for the Pinellas Park Police Department, said that after officers interviewed both suspects, a different story emerged and was ultimately corroborated by the victim.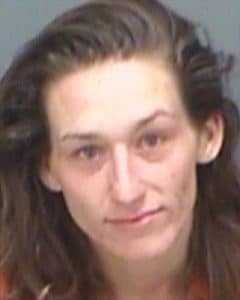 D'Andrea went to the home to sell heroin to both suspects. An argument about money led to Calvert trying to hit the man with the machete. She was able to get the drugs from him and consumed them prior to fleeing.
During the course of the investigation, Pinellas Park officers recovered the stolen money from the suspects.
Officers also discovered that D'Andrea took the remaining heroin and placed it in the trunk of the taxi that he drove to the scene.  In the car, police found 5 pieces of suspected crack cocaine, heroin which field tested positive for fentanyl, and other drug paraphernalia.
Both suspects and the victim were arrested and booked into the Pinellas County Jail.
Anthonly Aleman was been charged with Armed Robbery.  In addition, he is on felony drug probation and felony probation for armed robbery. He had two active arrest warrants
Mia Rose Calvert has been charged with Armed Robbery and Tampering with physical evidence.
Bradley D'Andrea has been charged with Possession of drug paraphernalia, Possession of crack cocaine, and Possession with the intent to sell heroin.