Young Child Critical After Pulled From Pool at Tampa Apartment Complex
According to Tampa Police Department (TPD) officials, a child was found unconscious in a pool at the Ashford Place Apartments this morning.
The boy, 9 year-old Jachoix Racyne, was spotted at the bottom of the pool at approximately 11:27 a.m at 10610 30th St N.
He was pulled out of the pool and Tampa Police Department officers performed CPR until Tampa Fire Rescue arrived. The boy was taken to Florida Hospital on Fletcher Avenue and later transferred to John Hopkins All Childrens Hospital in St. Petersburg. He currently is in critical condition.
Racyne lives in an apartment at Ashford Place.  He was left in the care of his grandfather while his mother was at work. The grandfather was in the apartment while Jachoix was out playing. It is unclear at this time what cause the incident.
**********************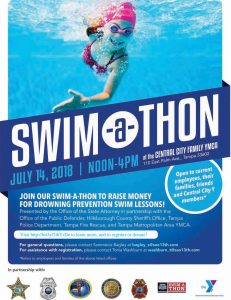 Though it is unclear what caused the incident today, drowning deaths and near fatalities among children are far too common in the Tampa Bay area. This Saturday, July 14, several local agencies are teaming up for a Swim-a-Thon to raise money for swim lessons for children in an effort to prevent drowning. Participants include the State Attorneys Office, the Public Defenders Office, Tampa Police, Tampa Fire Rescue, Hillsborough County Sheriff's Office, and the Tampa Metro Area YMCA. The attached flyer provides the time, location, contact information, and information on how to contribute.