Man Killed After Being Struck by a Car on Gulf to Bay Blvd in Clearwater
Updated November 7, 2017 – 10 p.m.
Updated November 8, 2017 – 11:30 a.m.
At approximately 7:36 p.m. on Tuesday, November 7, 2017, 59 year-old Craig Allen McKown was struck and killed by a vehicle.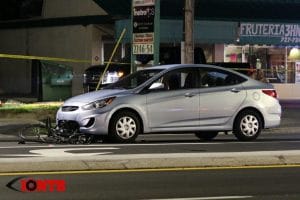 Clearwater Police and Clearwater Fire & Rescue were called to an accident on Gulf-to-Bay Boulevard just east of Belcher Road.
Police say McKown was walking his bicycle from south to north across Gulf-to-Bay when he was struck by an eastbound Chevy Cavalier, which was in the median lane.
The initial impact sent the bicycle into the westbound lanes, where it was struck by another vehicle. All lanes of Gulf-to-Bay were closed during the investigation.
McKown was taken to Morton Plant Hospital, where he died from his injuries.
Police say that he was not crossing at a crosswalk or traffic signal.
Motorists were advised to avoid Gulf-to-Bay between Belcher and Old Coachman roads for several hours.
Comments
comments