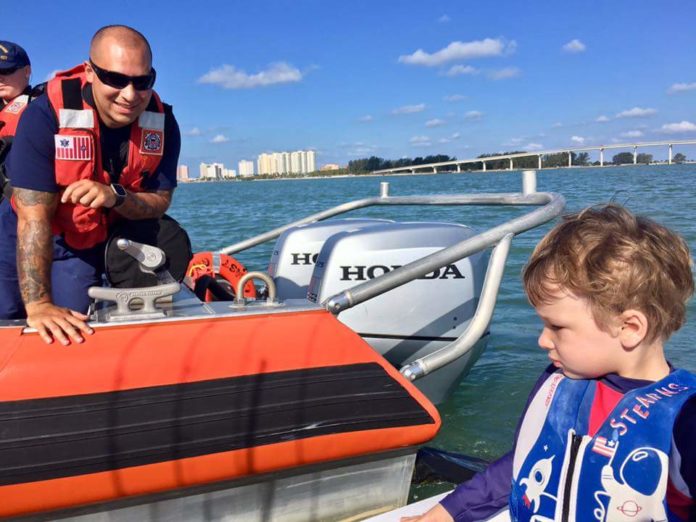 Busy Days For Boating Expected Over the Memorial Day Weekend
The U.S. Coast Guard along with partner agencies are scheduled to increase presence on the water the holiday weekend.
During the Memorial Day holiday, increased traffic on the water is expected. Coast Guard crews throughout the state and local law enforcement agencies, will be on patrol to ensure safety and security on the water.
"Florida has more registered boaters than any other state," said Officer James Boogaerts, a spokesman of the Florida Fish and Wildlife Conservation Commission (FWC). "It is crucial that these agencies team up to promote safe habits and maybe prevent accidents from happening on the water."
Throughout National Boating Safety Week (May 20 – 26) various rescue agencies have promoted boating education during a multitude of events.
During one event, first responders and commercial salvage companies gathered May 20 at Auxiliary Flotilla 7-9 and Gandy Boat Ramp to celebrate the start of NSBW. Coast Guard active duty and Auxiliary crew members, FWC, the Hillsborough County Sheriff's Office Marine Unit, Tampa Police Marine Unit, Hillsborough County Fire Rescue, Hillsborough County Parks and Recreation Department, Sea Tow and other organizations united to promote safe boating practices as mariners prepare to head into a busy summer season.
The Coast Guard Auxiliary offered vessel safety checks for all accessing Gandy Boat Ramp during the event.
"Dozens of boats lined up to be inspected," said Darren Hart, member of Auxiliary Flotilla 7-9. "Boats passing inspection receive sticker-decals to advertise their adhering to Coast Guard safety standards."
The public can contact any local Coast Guard Auxiliary Flotilla to schedule a safety check throughout the year.
"Safety starts at the dock before you board your boat," said Petty Officer 2nd Class Mathew Bonneau, watch stander at Sector St. Petersburg's command center. "Before heading out, make sure every passenger, including the captain, is wearing a life jacket. Once it's on, you don't have to find one in a panic during an emergency."
Additionally, registering your Emergency Position Indicating Radio Beacon and Digital Selective Calling Marine Radio will help speed up post-accident recovery. Taking a boating education course and filing a float plan can also reduce the risk of accidents.
The Coast Guard works to minimize loss of life, personal injury, property damage and environmental harm. The Coast Guard Mobile App supports these missions by providing the essential services and information most commonly requested by boaters.
Comments
comments