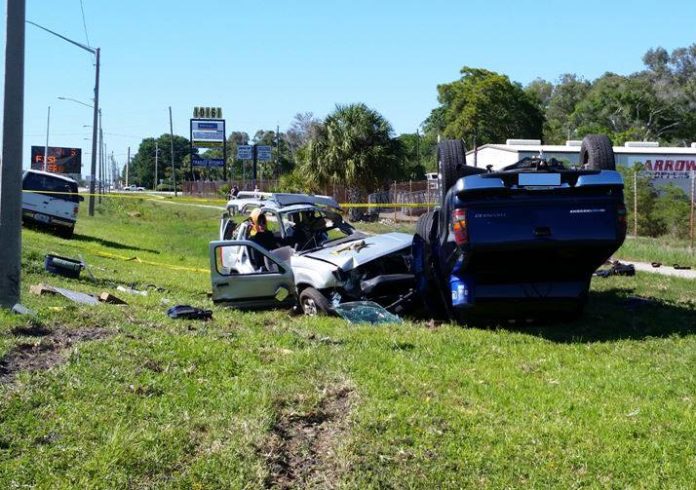 Police Say Road Rage Incident Left Man Critically Injured in Pinellas Park
Crews from Pinellas Park, Seminole, and Largo responded to reports of a rollover crash at approximately 4:30 p.m. on Friday, May 26, 2017.  The crash occurred in the 10000 block of northbound 49th Street in the area of the US Hwy 19 overpass in Pinellas Park, Florida.
Pinellas Park Police Patrol Units initially responded to a two vehicle crash where one of the vehicles had rolled over on its roof.  During the investigation investigators determined that criminal reckless driving (road rage) may have been the cause of the crash, and that an uninvolved vehicle's driver sustained critical injuries.  Because of the possible criminal nature and critical injury suffered by one of the drivers Traffic Homicide Investigators were called to the scene.
During their investigation it was determined that the driver of a 2002 Chevy
Silverado 2500, 30 year-old Anthony Powell of Pinellas Park, was involved in a road rage incident with a second unknown truck as they drove north bound on 49th Street in the 8600 block.
The Chevy Silverado involved in the crash, was observed by witnesses cutting off the other unknown truck just prior to the crash.  While underneath US 19 overpass, the Chevy Silverado attempted to cut off the second truck at which time Powell lost control of his truck.
The Chevy Silverado crossed over the median and into the exit ramp lane for US Hwy 19 at which time it collided with the uninvolved 2000 Nissan Xtera being driven by 52 year-old Timothy Ilyes of Tampa.
The Chevy Silverado came to rest upside down and there was heavy damage caused to the Nissan Xtera.  Ilyes was transported to a Bayfront Health St. Petersburg where he is listed in critical but stable condition.
The second truck involved in the road rage incident has not been identified and did not remain on scene, and it was determined there was no contact between the two trucks initially involved in the road rage incident.
Neither Anthony Powell nor his passenger, 26 year-old Amber Powell, were injured in the crash.
Investigators are working with the Pinellas County State Attorney's Office, because of the criminal nature of the investigation of the reckless driving resulting in serious bodily injury to another.  The investigation continues and charges are pending.
Investigators are asking for the assistance of the public by coming forward or calling the Pinellas Park Police Department (727) 369-7864 if they witnessed any portion of the crash, road rage incident, or if they know the whereabouts of the other truck involved in the road rage incident.
The roadway was closed from 4:30 p.m. until approximately 10 p.m. during the investigation.
Comments
comments