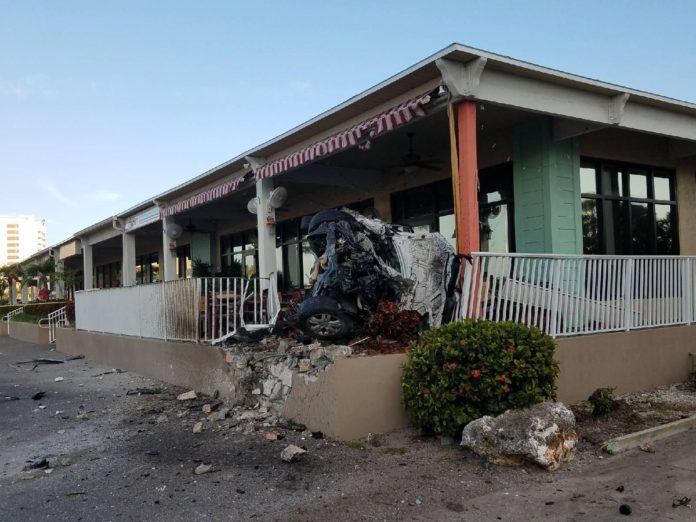 Clearwater: Man Crashes Vehicle into Building Resulting in Fire and Trauma Alert
Posted: April 22, 2017 – 8 a.m.
Updated 9 a.m.
Clearwater Police and Clearwater Fire & Rescue were called to the 700 block of
South Gulfview Boulevard just after 7:30 this morning for a one-vehicle crash.
According to Clearwater Police, a Nissan Rogue was headed north on Sand Key Bridge when the driver attempted to make a left turn onto South Gulfview Boulevard.
The vehicle went out of control, flipping several times before crashing into the front of
Cesare's at the Beach, 794 S. Gulfview Blvd. (Cesare's is a beach restaurant.)
The vehicle caught fire and bystanders were able to pull the 18-year-old male
driver from the vehicle. After being treated by Clearwater firemedics, he was
taken to Bayfront Health St. Petersburg by helicopter.
His injuries are serious, but not thought to be life-threatening.
Motorists may experience some delays on the north part of the Sand Key Bridge and that section of Gulfview Boulevard as the investigation continues.
[gmap-embed id="17856″]