Crash in Marion County Involving the Band Adrenaline Mob Leaves One Dead and Others Seriously Injured
FHP continues to investigate a fatal crash that occurred about approximately 12:24 p.m. on Friday, July 14, 2017 on I-75 near mile-marker 372 in Marion County.
It is reported that the crash killed one member of the band Adrenaline Mob. David Zablidowsky, the band's bass player, was traveling with other members of the band to play that evening at The State Theatre in St. Petersburg, Florida.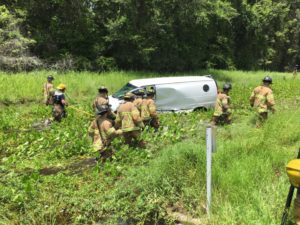 The band was traveling in two vehicles southbound on I-75.  One vehicle was a RV and the other a 2003 GMC Sierra which was pulling a trailer.  Both vehicles were stopped on the shoulder of I-75 to repair a flat tire on the RV.
59 year-old Robert Haines of Largo, FL was operating a semi for Twiss Transport of Largo, Florida and collided with both vehicles stopped in the shoulder.
Marion County firefighters arrived at 12:38 p.m. to find the RV fully involved in flames.  They say the fire was called under control at 12:54 p.m.
FHP reports the crash has left one dead, six seriously injured, and one critically injured.
The RV was occupied by the following people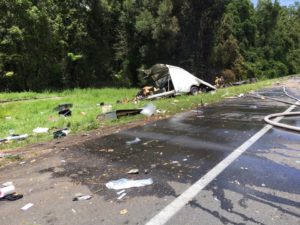 David Zablidowsky, died at the scene
(Driver) Jason McCole, 41 of Wilksbarrre, PA, Serious condition
Russell Allen, 38 of New Jersey, Serious condition
Janet Revins, 48 of Pitts Pond, PA, Critical condition
Dale Campiglia, 51 of Levittown, NY, Serious condition
Robert Dressler, 45 of Plaines, PA, Serious condition
The GMC was occupied by the following people
(Driver) Jordon Cannata, 27 of West Babylon, NY, Serious condition
Mike Orlando, 46 of Staten Island, NY, Serious condition
Haines, the driver of the semi, was not injured in the crash.
FHP continues the investigation but does not believe that alcohol played a role in the crash.