Deputies Need Help Identifying Two Men Shooting Snook with a Bow and Arrow in Madeira Beach
On Monday, July 9, 2018 at about 4:04 a.m., two unidentified white male subjects were observed on video surveillance illegally fishing for multiple snook utilizing a bow and arrow to kill the fish.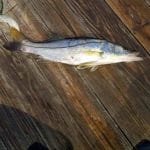 The incident took place at Don's Dock at John's Pass, located at 215 Boardwalk Pl E, Madeira Beach, FL.
According to Florida Statute, a person may harvest or attempt to harvest a snook only by or with the use of hook and line gear.  In addition, deputies say snook are out of season from May 1 and continuing through August 31 each year and must be released.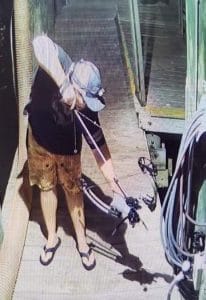 Suspect #1 is described as a white male, with facial hair, wearing a black t-shirt, bathing suit shorts, and sandals.
Suspect #2 is described as a white male, with facial hair, brown hair, with tattoos on left arm, and wearing a light colored t-shirt.
Deputies say they were possibly driving an older model white Ford Ranger pick-truck.
Anyone with information about this case is asked to contact Deputy Bruce Johnson of the Patrol Operations Unit 727-582-6200 and or Corporal Charlie Tita of the Marine and Environmental Lands Unit at 727-582-6087 or [email protected]
To remain anonymous and be eligible for a reward, contact Crime Stoppers at 1-800-873-TIPS or www.crimestoppersofpinellas.org.
[gmap-embed id="24168″]