Deputies from the Pinellas County Sheriff's Office responded to reports of a vehicle that drove into the water on the south side of the Corey Causeway.
The call for service was received at approximately 6:36 a.m. on Thursday, August 1, 2019.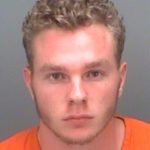 According to the Pinellas County Sheriff's Office, 19-year-old Christopher Chudik of St. Petersburg accidentally drove his father's Toyota Scion over the seawall at the dead-end of Corey Ave in St. Pete Beach. In the process, Chudik destroyed a city owned barricade at the seawall.
Chudik crawled out of the vehicle and left the scene without reporting the crash.
Deputies located Chudik and he returned to the scene where he was arrested for Leaving the Scene of a Crash with Property Damage.
It was unknown if drugs and/or alcohol played a role in the crash according to the arrest affidavit