St. Petersburg Police say that on Tuesday, July 30, 2019, an armed man held up a Family Dollar Store, 1701 4th St. S., at closing time and shot the store's assistant manager two times.
The victim was treated and ultimately released from the hospital.
At approximately 7 a.m., St. Petersburg Police announced that the subject was taken into custody.
Terrian Javon Knight, age 29, was taken into custody and now facing charges of Armed Robbery and Attempted Homicide. He is also being charged with being a felon in possession of a firearm. If convicted of the federal charge, Knight faces a maximum of 10 years in federal prison.
Knight was well known to law enforcement officers and a suspect in several previous robberies. At the time of the shooting, Knight was under surveillance by a St. Petersburg Police detective according to a criminal complaint filed with the US District Court.
According to the complaint, the detective observed Knight in a wooded area concealing himself near the parking lot just south of the Family Dollar store. At 11:45 p.m., the detective observed the store's assistant manager walk from the door of the Family Dollar to his truck. Knight came out of the wooded shrubs and demanded money and truck keys from the victim.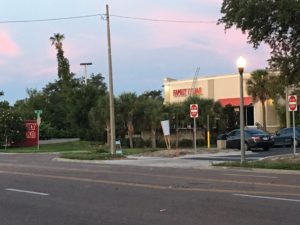 The victim reportedly threw his wallet and keys where Knight, "could not get them." Knight ordered the victim to the ground and fired a shot intentionally missing him but proceeded to strike the victim in the head with the handgun. After searching the pockets of the victim, Knight fired two shots into his backside.
Another St. Petersburg Police officer and his K-9 began to pursue Knight who jumped over a fence inside a retention pond west of the Family Dollar. At that point in time, a perimeter was established and the St. Petersburg Police Department Special Response Team (SRT), additional K-9 officers, and the PCSO helicopter were called in to assist. Knight was ultimately taken into custody after about 8 hours. He spend most of that time hiding in the retention pond.
Police recovered a loaded Taurus Millennium G2 9mm caliber handgun from the area of the retention pond.
During an interview with investigators, Knight admitted to possession of the Taurus handgun and robbing the victim because he, "needed money."
According the the Florida Department of Corrections, Knight had spent two periods of time in custody. He was imprisoned from September 15, 2009 through April 13, 2011 on convictions for carrying a concealed firearm and being a felon in possession of a firearm. He was also imprisoned from October 9, 2012 through April 16, 2018, on convictions for two charges of being a felon in possession of a firearm, attempted burglary of a dwelling, discharge of a firearm from a vehicle, burglary of a dwelling, and grand theft.
Updated 8/2/2019 – 5:30 pm