Donovan Patterson was taken back in custody on Sunday, July 16, 2017.
According to a complaint/arrest affidavit, Patterson was observed by a Pinellas Park Police Officer entering the driver's seat of a Silver Nissan near the intersection of 85th Terrace N and 59th Street.  Patterson's driver's license was suspended following a March 2017 traffic crash.
Two other subjects were reportedly in the vehicle as Patterson circled the block, exited the vehicle, and then entered his residence at about 5:25 p.m.
The arresting office noted that Patterson refused to, "vacate the residence after receiving knowledge of his charges."
Back in March, Patterson was released after posting bail bond awaiting trial for DUI Manslaughter and Vehicular Homicide for his role in the crash occurred about 1 a.m. on Saturday, March 11, 2017.  The crash occurred at the intersection of McMullen Booth Road and Curlew Road in Unincorporated Clearwater.
The crash claimed the life of 18 year-old Jocelyn Schirmer who was a passenger in the vehicle he was driving.  It also left some of the remaining 4 passengers with serious injuries.
His bond has been revoked and is currently being held in the Pinellas County Jail.
==========================
Updated March 25, 2017
Bond was posted on March 25, 2017
Patterson has a bail hearing at 8:45 AM on March 24, 2017. His attorney is asking for bail or for him to be released on his own recognizance.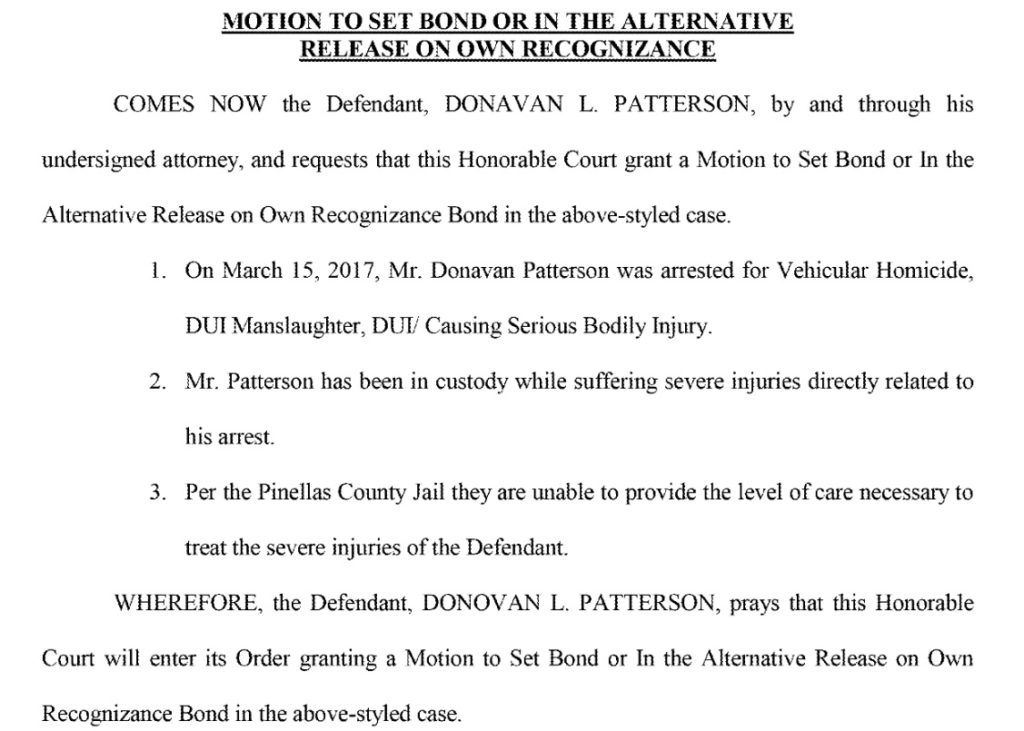 ============================================

Booking photo dated March 15, 2017
According to arrest affidavits, Patterson's initial medical blood alcohol results showed a level in excess of 0.08.  That is the level in which a person over 21 years of age is charged with Driving under the Influence.
The Florida Department of Law Enforcement crime lab will be processing the official blood sample for legal purposes.  The results from this test may take in excess of 4-6 weeks.
The law becomes much more strict of drivers under the age of 21. This means that any driver under 21 that is stopped by law enforcement and has a blood alcohol level of .02 or higher will automatically have their Florida drivers license suspended for 6 months. The .02 limit really means that you cannot have a single drink and drive.
If the breath or blood alcohol level is .05 or higher, the suspension may remain in effect longer and require the minor to complete a substance abuse evaluation and course.
In addition, insurance rates will skyrocket and may no longer offer coverage to that individual.
==================================================
FHP Troopers have arrested Donavan L. Patterson, 18, of Pinellas Park, following his release from Tampa General Hospital.  Patterson has been charged with DUI Manslaughter, Vehicular Homicide, and several counts of DUI Involving Serious Bodily Injury.
=================================
(Update: 4:50PM: The Dodge had a total of 6 occupants. Latest report from FHP indicates one deceased, 2 critical, and 3 serious)
The Florida Highway Patrol (FHP) is investigating a overnight fatal crash that occurred in Unincorporated Clearwater.
The crash occurred about 1 AM on Saturday, March 11, 2017 at the intersection of McMullen Booth Road and Curlew Road in Unincorporated Clearwater.
The crash involved a 2008 Dodge Caliber and a 2003 Ford F-250.
According to FHP, the Dodge was traveling southbound on McMullen Booth Rd approaching the intersection of Curlew Road. The Ford was traveling eastbound in the left turn lane of Curlew Road approaching McMullen Booth.
FHP reports that the driver of the Caliber, 18 year-old Donavan Patterson of Pinellas Park failed to stop for a red traffic signal as both vehicles entered the intersection.
The impact caused both vehicles to overturn.
Donavan Patterson was seriously injured and transported to Tampa General. He had five passengers in the vehicle at the time. One of those passengers, 18 year-old Jocelyn Schirmer of St. Petersburg died at the scene.
Two of the four other passengers were critically injured in the crash. Those passengers were identified as 15 year-old Kianna Diaz of Riverview, 15 year-old Jayla Simpson of Pinellas Park.
20 year-old Caleb Lindsay of Naples and 17 year-old Paul Schirmer of St Petersburg were also passengers in the Caliber and their injuries were listed as serious.
The driver of the Ford, 22 year-old Dalton Cox of Clearwater was seriously injured and transported to St Joseph's Hospital.  His two passengers 21 year-old Megan Bortolis and 23 year-old Victoria Rowe escaped with injuries described as minor.
According to the FHP report, alcohol played a role in the crash.  FHP stated that the crash was alcohol related with possible impairment of both drivers.
Charges are pending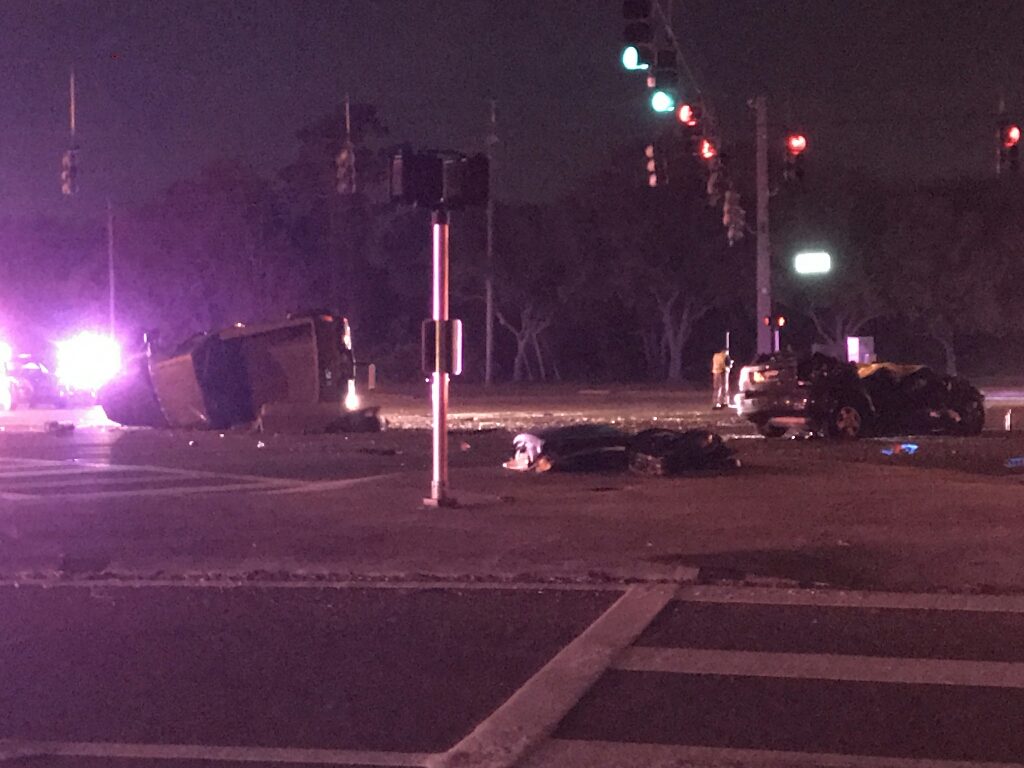 Clearwater Fire & Rescue was joined on scene by Safety Harbor firefighters, Palm Harbor firefighters, and Sunstar Paramedics
All lanes of the intersection were reopened at 6:35 AM according to FHP.
Comments
comments