Florida Highway Patrol Troopers Arrest Wrong-Way Driver for DUI After Two Injured in I-275 Crash at MM 16 In St. Petersburg
The crash occurred at approximately 3:40 AM on Sunday, February 26, 2017 on I-275 near MM16.
The head-on collision briefly closed down the interstate due to a large debris field.  One vehicle rolled and landed in a water retention pond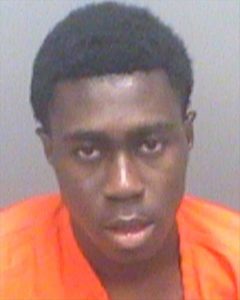 Preliminary information indicates that 21 year-old Jeffrey Vendredi of St. Petersburg was traveling northbound in southbound lanes on I-275 north of the Skyway Bridge.
According to the arrest affidavit, Vendredi indicated he was driving from Tampa to Bradenton and admitted to "drinking 2 or 3 drinks."
The Trooper noted that Vendredi's breath contained a strong odor of an alcoholic beverage along with glassy and watery eyes.  The affidavit indicated that he performed poorly on field sobriety tests and consented to provide breath samples to measure his alcohol concentration.
One sample indicated an alcohol concentration of .143 with 0.08 being the legal threshold of impaired driving in the state of Florida.
Vendredi was arrested for Driving Under the Influence with Property Damage and booked into the Pinellas County Jail.  He was released on $500 bail later in the day.
Two people were reported injured in the crash but no further details were released.
[gmap-embed id="16808″]