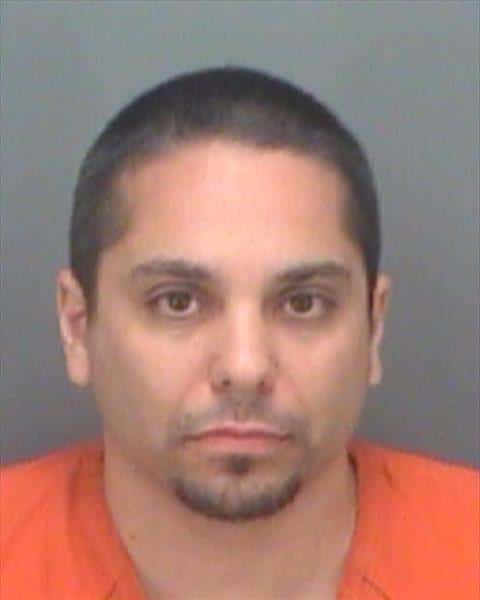 Former Teacher Sentenced For Crashing His Vehicle Into Two Pedestrians While Playing Pokemon GO
Vincent Barone, age 28 of Clearwater, was sentenced last week for his role in a crash that occurred on Sunday, December 18, 2016 in Dunedin.
Deputies arrested Barone after he crashed his vehicle into two pedestrians while playing a video game on his phone, and fled the scene. A witness of the crash followed the suspect and detained him until deputies arrived.
Barone was operating a 2003 Honda Civic traveling westbound on SR 580, passing the intersection of CR 1, when the Honda veered off the roadway in a northbound direction and struck two pedestrians standing on the sidewalk.
Barone failed to stop his vehicle after striking the pedestrians, continued westbound on SR 580 while fleeing from the scene.  A witness on a motorcycle, Randall McNabb, followed Barone from the scene of the crash, to the Oasis Convenient Store located at 1401 Pinehurst Road, in Dunedin. The witness called 911 and detained Barone until deputies arrived.
The pedestrians, 37-year-old Sheree Dean of Largo, and 29-year-old Sherman Puckett of Clearwater, sustained serious injuries and were both transported to Bayfront Health St. Petersburg.
Barone admitted to investigators that he accidentally struck the pedestrians and left the scene of the crash because he "panicked". Barone said he was distracted from playing a video game on his phone, at the time of the crash.
Barone was arrested and transported to the Pinellas County Jail where he posted bail in the amount of $20,000.
Barone was a well liked science teacher at Plato Academy in Largo, Florida at the time of the crash.
On August 22, 2017, Barone changed his plea to guilty for leaving the scene of a crash involving serious bodily injury and reckless driving with serious bodily injury.
As part of the sentence, he was taken back into custody and incarcerated in the Pinellas County Jail.  He received 2 days credit for his initial incarceration and will be held for an additional 118 days of this 120 day sentence.
He must also pay restitution and medical bills incurred by Dean and Puckett in the amount of $530,120.58.  This is the amount of restitution remaining even after $47,886.47 was previously paid to Dean.
This restitution order states that Barone must pay $100/month toward Puckett's medical bills totaling $151,669.03 and $100/month applied to Sheree Dean's medical bills, totaling $376,338.02.  Barone has already paid $47,886.47 to Dean as a result of the incident
In addition, he must pay $657.00 to the Criminal Court Division of Pinellas County for fine and cost of prosecution.
Barone will remain on probation for 15 years and may apply for early termination of probation after 7 1/2 years.  An order remains in place that Barone is to have no contact with either Dean or Puckett.
His drivers license will remain revoked for a period of 3 years.
Comments
comments