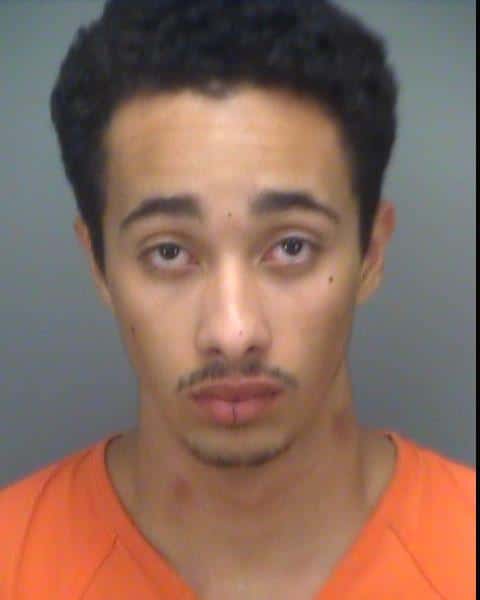 Impaired Driver Runs From Vehicle Crash While Fleeing From Pinellas Deputy in Palm Harbor
Kingzig Allah Montanez, age 18 of Holiday, was arrested after fleeing from a traffic stop and rear-ending a vehicle early this morning in Palm Harbor.
The crash occurred at about 1:41 a.m. on Sunday, January 21, 2018 at the intersection of  U.S. Highway 19 North and Tampa Road.
According to Pinellas County Sheriff's Office (PCSO) investigators, 18-year-old Kingzig Montanez was driving his mother's 2017 Hyundai Elantra southbound on U.S. Highway 19 North near Innisbrook Drive. Deputies say Montanez was driving at a high rate of speed when he passed a deputy on U.S. Highway 19 North and swerved into the traffic lane in front of the deputy's patrol vehicle.
The deputy activated his emergency lights and sirens in an attempt to stop the Hyundai but Montanez refused to stop and fled southbound on U.S. Highway 19 North.
The deputy did not pursue Montanez and lost sight of the Hyundai.
Investigators say Montanez continued southbound towards the intersection of Tampa Road. 28-year-old Heath Ready was driving his 2016 Fiat 500 and was stopped in the right southbound lane of U.S. Highway 19 North at the Tampa Road intersection. Ready was stopped for the red light when his Fiat was rear-ended by Montanez's Hyundai.
As deputies were arriving on the scene of the crash, they saw Montanez fleeing on foot. Deputies gave chase and apprehended Montanez a short distance from the crash scene.
Paramedics responded and transported Ready and his two passengers, 22-year-old Annabelle Gardner and 27-year-old Richard Serrra III, to Mease Countryside Hospital with non-life-threatening injuries.
Deputies believe impairment and speed were both factors in the crash.
Deputies arrested Montanez and transported him to Mease Countryside Hospital for non-life-threatening injuries. Montanez was medically cleared and booked into the Pinellas County Jail.
Deputies charged Montanez with one count of Fleeing and Eluding, one count of Leaving the Scene of a Crash with Injury/ Property Damage, one count of No Valid Driver's License, one count of Resisting Arrest without Violence and one count of Driving Under the Influence.
The investigation continues.