Man Arrested for Burglary After Captured on Camera Stealing Christmas Gift From Pinellas Park Home
Daniel Gajewski, age 39, was arrested and charged with Burglary at a Pinellas Park home.
It was Friday, December 22, 2017 at approximately 2 p.m. when a doorbell camera captured Gajewski riding up to a home in the Autumn Run subdivision on his bicycle.
Gajewski grabbed a Christmas gift which was intended the homeowner's 15 year-old daughter at the residence.  In an instant, Gajewski and the gift were gone.
Lauser helped spread the video throughout social media to help solve the case of this porch pirate.
Left behind was a very clear video and photos of Gajewski including a very distinctive star tatoo on his elbow.  It was that tatoo that helped Pinellas Park Police identify Gajewski.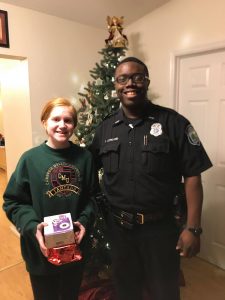 Despite being a day late for Christmas, Lauser's daughter did receive her gift delivered late last night by Officer Copeland of the Pinellas Park Police Department.
The stolen gift, a camera from a relative, was located when Gajewski was arrested.
Gajewski is listed as homeless and is currently residing in the Pinellas County Jail being held on a bail of $5,000.