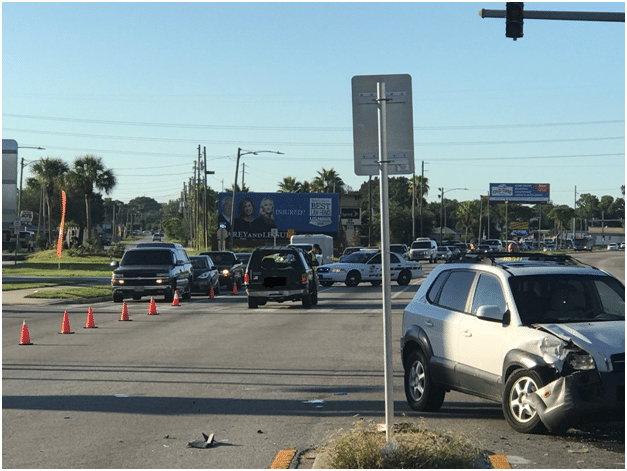 Man Dead in Crash Early Saturday Morning in Pinellas Park
Pinellas Park Police are currently on-scene of a fatality crash that occurred at approximately 7:06 a.m. at the intersection of US-19 and 70th Avenue N in Pinellas Park, Florida.
The crash ended up involving a total of four vehicles with one driver being ejected from a 1998 Ford Exolorer. The ejected driver, 53 year-old Timothy Fitch of Pinellas Park, was transported to Bayfront Health St. Petersburg where he later died from his injuries.
During the investigation, it was determined that a 2005 Hyundai Tucson driven by 22 year-old Jasmin Jimenez of Pinellas Park, was traveling north on US-19 in the middle lane approaching 70th Ave.
Investigators say Jimenez ran the red light ultimately striking the Ford Explorer that was traveling west through the intersection on a green light. The impact with the Explorer caused it to roll once and the driver, Timothy Fitch was ejected from the open driver side window.
While the Explorer continued to roll it struck two other vehicles which were stopped at the red light for southbound US-19. Both vehicles sustained only minor damage with no injuries to either driver.
The Explorer ultimately landed on all four wheels and the vehicle rolled through the intersection where it was stopped by 20 year-old Kelly Fitch.
Kelly is the daughter of Timothy Fitch.
The driver of the Tucson, Jimenez, sustained a broken wrist and was also transported to Bayfront Health St. Petersburg.
Kelly Fitch the passenger of the Explorer was also transported to the hospital for her minor injuries.
During the investigation it was also learned the driver of the Explorer was not wearing his seat belt at the time of the crash causing him to be ejected from the vehicle during the crash.
There are no criminal charges pending.
A citation(s) are pending once the investigation is complete.
The Pinellas Park Police Traffic Homicide unit investigated the incident which closed roads in the area for several hours.
Comments
comments